My divorce from Kefee will make me a better hubby to my new wife---Alec Godwin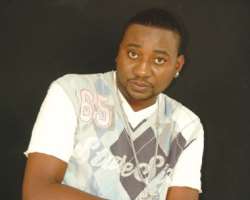 Music producer turned singer, Alec Godwin, is currently not doing badly after the messy divorce from his wife, Kefee, the gospel artiste. Though it has been alleged the dude took to alcohol after the divorce and even went back to his ex on his knees, Godwin refutes this and more in this interview with 'NONYE BEN-NWANKWO
We learnt you relocated to Sapele (Delta State) to become a school principal…
I will always be shuttling between Lagos and Delta, though I am more in Lagos. I will always be taking care of the school in Sapele. I was born in Sapele; I will never cut off my ties with the place, it is not possible.
But did you need to become a principal?
That is an old school story. I am not trained to do such; I cannot function as a principal from here. It was a story some people wanted to bring up at that time. I don't know who brought it up.
Is your album ready now?
No, it is not. We are working on it. I am only slow about it because I want to get the marketing issues right first. It is not just for my album, but for every other album. I want to create a platform where we can handle every artiste in the country. It is more like a marketing solution for everyone. It is going to be the revolution in the industry.
Do you think this idea of yours will work?
It has to work. It is something that has never been done. It is not a conventional approach.
And you don't want to tell us about this idea?
No way! It is not yet time to do that.
What is happening to your label now?
Alec Music is on. It is easy to make a star but then, you don't want to start fighting with the star again. The problem is there aren't enough funds in the system. Forget the hype and all that, we know the true story. I will not get an artiste and deceive the people so that they can think we are billionaires. I want to solve the marketing aspect before we start taking on artistes. I have got one or two; we are already talking. But I made it clear to them that until the marketing thing is resolved, we will not put pen to paper.
So what happened to all the artistes in your label?
Their contracts expired and we didn't renew. It wasn't as if they walked out.
Why did you decide to become a singer? You were mainly into production and directing before now.
That is what you think. You don't know that I have always been a singer. I have always been a voice tutor. I have released two albums, though with a choir. Kefee was in my choir back then. I later left it for the passion to groom other people. I needed to focus on that because they were all around me. But I knew my singing career was going to come up again. That is why Alec Godwin and the Dream Team came on board. It is still my choir thing.
What kind of music are you into now?
It is still gospel. We have different varieties. We are cutting across everybody. I am not doing any laid back music. That is why the album is not in a hurry to be released.
It is so obvious that you have pulled your life together after your divorce.
Yes. I have long moved on.
How easy was it for you to adapt to life as a single man again?
As soon as you know this is the way it would be, you need to get on and face life. But the beauty of it was that there were things to learn. You become a better man and you know how to watch out for your spouse when you get into it again, you will now know what to do and what not to do. You will become smarter and wiser. From my perspective, it can't do harm to whoever I eventually get settled with, it will definitely make me a better man for her.
Do you still feel hurt?
No. Now, I only see the big picture. Initially, it was terrible. But now, I understand. I have completely forgiven all who need to be forgiven. You can never move on without forgiveness. I don't hold anything against any one. I don't feel hurt. Sometimes I get lonely because I never planned to be lonely at this time of my life. But that doesn't mean I am not living a happy life. I am just taking my time and not rush into something that will lead to something else again. I am just taking my time.
But we learnt you are in a relationship. Some even said you are now engaged to somebody.
Let your sources confirm that for you. By God's grace, it will come soon, but that is not my priority. Only the right woman will get my attention.
Will you still get married to a singer?
Well, I don't know. I wouldn't know. If I say I will not marry a singer again, it will look as if I am still holding some grudges.
Though a singer might not be the first choice; with a strong personality, I will go for the person.
Some people believe that with God, everything is possible…
Yes, I believe so too.
Don't you think it might be possible that you and Kefee get back together?
No way! I even see it that God was behind the break up. It may sound funny to people. When we heard issues, we felt it was the Devil fighting us not to get married. I guess our folks could see better than us. Our folks didn't want the marriage to go on. We had so many challenges, even during courtship. During and after the marriage, there were still many challenges. It was a battle all the way. We had concoctions wrapped as gifts during our wedding. It was that bad. A lot of people made it known they weren't in support of the marriage.
So there can never be a turn around?
No! I don't think so. I know they say never say never; but in this case, I know it is not possible. I did everything to hold on to what I believed, but once the divorce was over, we had to go our separate ways.
The divorce is now in black and white?
Yes. We already had three years of marriage. There was no need to beat about the bush. They asked us if we wanted the marriage to be dissolved. I said yes and she said yes.
Do you guys still talk?
We are not quarrelling. We met at the Hip Hop Awards. I was surprised when she came to me and said, 'Hi.' I replied with a 'Hello.' I really don't know what else we had to say. That's fair enough, at least we are not throwing bombs any more.
Now, you mentioned throwing bombs. Back then, when you people were calling each other names, it was alleged your brothers were into armed robbery.
I need to clarify all that. I think I owe people that. My brothers could be called rascals, but they were no thieves. They would only steal my dad's car and go and party in the night. They were quite popular in town then and most kids saw them as their dream guys. I guess Kefee was just hurt and angry and wanted to throw arrows. That was why she said all she said. If you check the records, what my brothers stole was actually my dad's cars. My dad had many cars so each of them would steal one car and flee and try to sell the car.
They were against my dad because he told them they would preach the gospel and they never wanted to. They were just rebellious because they felt my dad was not going to give them a chance to be themselves.
They took it too far. My father got them arrested and he still bailed them. At the time she was saying all that, my brothers were already Christians. She wouldn't have been able to say that when they were terrors.
You would agree that Kefee's career has really grown?
Yes.
Are you envious of her growth?
Envious? No! Before she left, I told her she was going to make it in her career. I wished her all the best. I told her she would get to the highest height and discover that nothing else could fill my space. I didn't say it to hurt her. I have learnt from our experience and I hope she has learnt also so that in her future relationship or when she eventually settles down, she will know how to hold it together. I know I was a good husband and I know that nobody can replace me. I cannot be envious of her. I am happy for her. What I dreamt for her is even more than this. I even wish she will go higher than she already has. I will always be a part of the success. I don't care what she wrote on the jacket of her CD. I still remain the writer of her Kokoroko.
You wrote the song?
Yes, I did. It was recorded in my studio; the whole album was recorded in my studio. She only removed General Pype, who was initially in Kokoroko. She went to K Solo and got Timaya to come on it. Timaya's part is the only part I didn't write. We don't need to go into all that again. It is just that I will never change my stand on that. I wrote the song and I will stand on that till my last breath. It is not as if there is anything to gain. I could have fought for my right, but there is really nothing I wish to benefit. Remember there was a time a guy said I stole a song, Food is Ready and gave to Kefee. Kefee went to the papers and said I wrote the song. She was transferring the responsibility to me. But in her album, she still said she wrote the song. Let me assume that was the time she was bitter and she wanted to hit back at me. But the truth will always be there.
Let's agree you wrote Kokoroko, do you think she would have grown up like this if you guys were still together?
I think she would have. The song is a good song. The hype she got before the album was negative. It could have killed her career but it didn't; it was risky. It is not something one would wish for in the name of growing up. We didn't bring that ourselves.
We learnt you went on your knees begging her to take you back, especially after her album became a hit…
Those are part of the rumours that didn't exist. I have never seen her until recently. I have not been in contact with her family. I don't have to even reply to that rumour. After the divorce, the first time I set my eyes on her was during the Hip Hop Awards. We have never met one on one before then.
But we learnt you have her song Kokoroko, as your ring tone.
It is not true. I don't even have it on my phone, let alone as a ring tone. It is not as if there is anything wrong if I decide to do so.
We also learnt you took to booze after the divorce…
That is also a lie. I don't take alcohol. I have never been drunk; I don't know how it feels like to be drunk and I will never know how it feels like.
So who is the girl in line now?
Nobody; I am taking my time. I am not in a rush. I don't want to tow the line of divorce the second time. I know what I am doing. When I see her, I will know.