THE RICHEST SISTERS IN NOLLYWOOD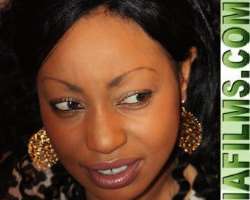 From the 80's till half-way through the 90's, nearly every household in Africa watched Western and Asian movies, no wonder stars like Eddie Murphy, Clint Eastwood, Bruce Lee, Anorld Schwartzenegger, Amitah Bachan, Jackie Chan, Grace Jones, Cynthia Rotrock, Julia Roberts and many others became more popular among the African youths than the African presidents.

As millions of Africans read about their life styles especially how much money they make, these stars have been exalted to become demi-gods. But with the arrival of Nollywood in the early 90's and the rising profile of some of Nollywood stars in the late 90's, everything changed. Nollywood fastly became the talk of the day amongst African youths and many across other continents.
Many families stayed glued to Nollywood movies more than they did to Hollywood and Bollywood films. One of the things that added glamour to Nollywood was the beautiful faces of sisters in the baby Nigerian movie industry that was soon to take the world by storm.
Nollywood sisters are talented, elegant, smart, and beautiful. They have indeed made africa proud. They have come a long way and have shown that there is still something magical and good about Africa. Most of them came from humble backgrounds and have today become role models to millions of youths and fans around the globe. They rose in style like the sound of the rain. Although this may appear hard to believe, most of our nollywood sisters today ride around with bodyguards and tinted glass cars. Why? Because they can no longer walk freely at the airports, in the market places, banks or churches without causing commotion, eyes staring at them, or people chasing after them to take pictures with them or get their autographs.

Such was the case when fans chased and surrounded Mercy Johnson while she was on vacation in South Africa 2008. Another instance was when fans who came out in numbers to welcome Stella Damasus at the airport in Trinidad and Tobago started shedding tears while calling her name when she was coming out from the airport. It came to a point that she started crying herself. It was at that point that she understood the effect and impact Nollywood has created around the world. Not many Nollywood sisters and stakeholders would have anticipated that this would have come this far. All of a sudden they have woken to the reality of being celebrities on a continent where no one ever imagined it could have happened so soon. A continent where it has never been so and seems as though it would never be so.
In the past ten years the faces of our Nollywood sisters have dominated many newspapers and magazine covers. They have held many viewers spellbound through their magical performances in the movies. They have also helped to re-brand the image of Africa and many in the Western hemisphere cannot help but wonder whether this could actually be true. The notion held by many in the West that African ladies who live in Africa are dirty, ugly, oppressed, stricken with poverty, lack education and enlightenment, has now all been changed by the growing popularity of Nollywood all over the world and this sisters who have made it happen.

In every environment hard work pays and this women and ladies have proven this old reality. This list is about the richest actresses in Nollywood. The sisters in this list have been rewarded for their sacrifices. Contrary to the belief that these sisters spend their money only on expensive cars, the ones who made this list have all been wise in their spending. What has also made the names in this list thick is that some of them have branched out to become producers, entrepreneurs and big time investors in different areas like real estate and fashion.
They have traveled around the world, they are comfortable and rich, they are independent and they are in control of millions.
They represent the true definition of successful sisters. Unknown to many people, many of these sisters are even richer than some Nollywood producers. Many of them are making it bigger day by day.

We are happy for them and their achievements so far. This list is entirely based on their assets and earnings over several years. There are some surprises in this list and I am sure this may interest a lot of people. But that is exactly what this list is all about. I hope many sisters and brothers out there would be motivated and know that there is no shorter road to success apart from hard work and doing the right thing.
1. Kate Henshaw-Nuttall N67 million
Humble and hardworking she is what you may call the silent millionaire. She became one of the actresses to try out into other ventures. Spared by the tabloid bashing, the African Movie Academy 2008 best actress winner has graced Nigerian television like an amazon. The screen star who also has an 8yr old daughter Gabrielle is a complete biz woman to the core. Although she appears classy often times, this sister spends wisely on what she wears and only travels abroad for business rather than pleasure. She does not drive very expensive cars and she lives a purely average and normal life. The cross river born star who has her own company which specializes in different businesses has great interest in real estate. She currently has three buildings and several landed properties scattered all over the country. By 2006 she had earned N10 million and the following year, she reached N12 million. She has never looked back since then. The warm
and beautiful star is also a model, she is presently a Glo Ambassador and face of Conga (brand from Promasidar) and has since earned a whopping amount of N20 million between 2008 and 2010. Plans are also underway for the production of her own movies.
2. Genevieve Nnaji N64 million
An icon in her own world, a screen goddess and the queen of Nollywood. Many describe her as an industry. Best AMAA actress in a leading role in 2005, Genevieve Nnaji is arguably the most popular actress in the Nigerian make-believe movie industry called Nollywood. She has over 10,000 registered fans on her website genevievennaji.ning.com and receives about 3,000 letters from fans all over the world
every week. In September 2009 the American mega tv talk show host Oprah Winfrey named her as one of the 100 most famous people in the world. She is also by far the highest paid actress per movie and the first to earn a million nairas in a single movie. By 2009 she raised the bar and she was paid $25,000 in the block buster international hit movie IJE produced by Chineze Anyaene. A model and also a singer, in 2004 she became the face of Lux and subsequently was involved with pronto beverage and omo detergent.
The following year she released her debut album in Ghana Longolongo which saw her prove her versatile talents to her adoring fans all over the world. Between 2004 and 2006 she earned a whopping amount of N31.3 million. Major part of the money N14.7 million came from her two-year Lux deal ($100,000). With no great interest in real estate she decided to dive into the fashion industry. She launched her clothing line St. Genevieve in 2008 which is presently being managed by fashion icon Zizi Cardow. St.Genevieve is reportedly worth N20 million. There is no doubt that she would have been topping this list with a great margin if she eventually got the Glo deal. She became the first to be contacted by Globacom, but she demanded N50 million while globacom wanted to sign her for N30 million. She's reported to have tried later to salvage the deal, but she has already lost it.
The event also saw her sack her manager of 3 years. Unknown to her, Glo had already decided to involve other Nollywood actresses before contacting her. Rather than stopping after the loss of the Glo deal, the star decided to step it up and prove to her fans the daring side of hers. 2010 has seen her feature in some of the best movies ever seen in Nollywood and that includes Ije, Busting Out, Mirror Boy, Tango with Me. 2010 has also seen her become the face of the MUD. She also appeared in the video of D Bbanj hit song Fall In Love
3. Ini Edo N60 million
She has remained very consistent and has proved times and times that she was born to be a star. Ini believes in landed and housing properties and has invested in this area more than any other Nollywood sister. She has five buildings to her credit and another one yet to be completed by the end of the year. Most of the buildings are being rented to tenants. The actress, model and producer presently has nine landed properties which she either plans to build upon, fence for keeps or do business with. Five of the landed properties are in the Ikotun
and Ikorodu area of Lagos State and the rest in her home state. By 2007 she earned N15.7 million from movies and her businesses.
She has just produced her latest flick Memories Of The Heart which will be premiered in the United States. She is part of the Glo pride
and also part of the project to move Nollywood to another level. She is fully involved with Nollywood USA led by J. J. Bunny. She also featured in the latest film by Nollywood USA titled (THIS IS HOUSTON).
4. Rita Dominic N58 million
She is the best-dressed actress according to Nollywood insiders and fans. In 2004 she won the City Peoples Award as the most outstanding actress. The face of Nokia and the Glo ambassador star is also a business woman. Rita has done well both as an actress and model. Her assets include landed properties and two homes estimated to be worth N40 million. Between 2008 and 2009, she earned N16
million most part of the money coming from Nokia and Glo. She is about to launch a book and produce her own films.
5. Mercy Johnson N55 million
When many argued whether there would be another star like Genevieve, then came the fierce and hot Mercy Johnson. At the moment she remains the most controversial actress in Nollywood. The movie The Maid was not enough to woe Nollywood fans to her, but 19 Mackaulay Street revealed her to be the latest Nollywood revelation. Since then she has never looked back. Many argue that the tens of movie scripts that comes her way are due to the fact that she's is not a glo ambassador, but the actresses does not see it that way.
In the past three years she appeared in more movies than any other Nollywood actress. By 2008 mercy Johnson had appeared in fifteen movies and earned N11.4 million from movies alone. The following year, she earned N13 million and she featured in the Emen Isong hit movie Guilty Pleasure. She is also a real investor in properties. She is about to complete two houses at the moment. She also own about six landed properties in lagos.
6. Omotola Jalade Ekeinde N53 million
She is the darling and princess of Nollywood, bold and a beauty to behold. Many believe she shares the same status with Genevieve Nnaji and together they are the two biggest actresses in Nollywood. Omotola is not an everyday business woman like you may think, but what you may call a seasonal investor in whatever she develops a passion for. Although she didn't feature in many movies recently, she has always proved that she is always at her best in any movie she acts in. In 2007 she earned N9 million. Omotola takes it easy with her life and also has great love for cars. She drives more expensive cars than any actress in Nollywood and her garage is estimated to be worth N20 million. The mother, model and musician has recently stepped up her game in the music industry.
Her first album ''Gba'' was her first introduction to the music industry but her sophomore album ''˜Me, Myself & Eyes" has defined her as truly talented. The production and promotion of her album cost her a whopping sum of N13 million.
6. Patience Ozorkwor N51 million
The Enugu star is nicknamed ''Mama G'' in Nollywood. She is the oldest among the people listed here. She is known for her tough roles in movies. Mama G who is also a musician has been consistent in the industry and has demonstrated rough energy to take on many roles when there is the need to. She is very diverse in her investments but also has several landed properties. She also started business very
early.
7. Uche Jombo N50 million
Nollywood insiders, stake holders and fans all agree that this has been Uche Jombo's year. She has razzled and dazzled many with her acting in several movies this year. The year 2010 has seen her dominate the headlines more than any other actor or actress in Nollywood. The media pictures her everywhere. Although in a positive light, she has enjoyed media hype like Genevieve Nnaji in 2005 and Mercy Johnson between 2008 and 2009. In 2008, she pocketed N10 million for her slick performances in several movies. Uche started to prove her talent in the industry when she co-wrote in 2995 the block buster movie ''Games Men Play'' with veteran female producer Emen Isong. In 2009/2010 which appears to be her biggest year in the industry, she featured in the nollywood USA movie by J. J. Bunny ''Rebound'' followed by her own very work and master piece that has set Nollywood on fire, which is currently being premiered in the United States.
The Glo ambassador and model, who earned more than N11 million in 2009, seems unstoppable at the moment. The year 2011/2012 could see her top this list since some of her movies are not yet released and the ones being shown in cinemas are still enjoying sold out tickets across the entire continent. Uche is also among the stars involved in the ongoing Nollywood ''Rebirth'' that raises the quality of Nollywood movies via the Emen Isong Royal Art Academy and J. J. Bunny's Nollywood USA. Uche could also be the first mega actress turned producer in Nollywood. More is expected from uche Jombo in the future.
8. Monalisa Chinda N50 million
Also involved in the Royal Art Academy mission, the beautiful actress from River State has done well for herself after ten years plus in the industry. Between 2004 and 2008 Monalisa Chinda earned about N25 million. The actress and producer is about to release her movie which is already in the finishing stages. She also owns landed properties in choice locations in both River State and Lagos.
9. Chioma Chukwuka N46 million
The absolute scandal-free actress in Nollywood. She has featured in about 70 movies and has raked in millions for herself and family. The Oraifite Anambra State born star was voted the African Movie Academy Awards Best Actress 2007. She earned N8 million from movies in 2007 and since then she has been climbing higher and higher. In 2008, she also earned a whopping N9 million. She owns two houses and various properties in Lagos and her home state.
10. Funke Akindele N44 million
The 'I need to know'' former star is what many tagged the ''unexpected'' She has been there and it seems as though she would always be there. By 2009 her efforts paid off when she won the African Movie Academy Awards Best Actress of the year. Between 2008/2009, she earned a whopping N16 million from her performances in several movies which also includes the English movies. Her ability to perform in both yoruba movies and english movies has given her a lot of edge in the industry. She recently concluded a N17 million mansion and another two are underway. Her charity organization is underway even as she keeps the Glo brand flying high.
11. Oge okoye N42 million
The british born nollywood star has always been among the ..A list'' stars in Nollywood and nothing has been able to hold her back. Aside from being a mother of two, she is also a business woman. She works with several international business outfits that help her to remain at the top. Between 2006 and 2008, she earned N12 million from movies alone. She also has landed properties to her name.
12. Stella Damasus N40 million
Not even the death of her first husband has stopped her from rising to the top. The singer and tv star is also a beauty to behold. Between 2004 and 2008, she earned over N20 million just from movies. The music and MC star has so much to offer to the growth of Nollywood. Stella is a diverse talented and business woman, who will always move from one level to another.