PUPILS PERFORM BETTER IN STAN/MOBIL COMPETITION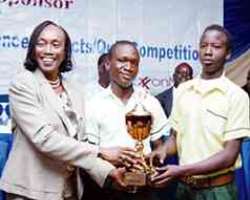 L-R: Executive Director, Mobil Producing Nigerna Unlimited, Mrs. Gloria Essien-Danners; Master Justice Ogbona Ebere; and Raphael Chijioke Alimba, both pupils of Command Day Secondary School, Enugu, Enugu State, receiving the first position trophy in the Mobil/STAN Science Quiz Competition in Abuja.
For 15-year-old Justice Ogbonna Ebere and Raphel Chijioke Alimba, pupils of Command Day Secondary School, Enugu, Enugu State, it was a moment of accomplishment. It was a day of joy as their state clinched the first position in the secondary school category of this year's Science Teachers Association of Nigeria and Mobil Science Quiz Competition for primary and secondary schools' pupils in Nigeria.
Speaking shortly after the final competition held in Markurdi, Benue State, penultimate Friday, Ebere exclaimed, 'I feel happy that God formally made it happen, for three months I prepared for this competition, burning the midnight candle but I am glad tonight that my efforts are crowned with success.''
To him, the future is bright for science education in Nigeria and he strongly believes pupils should be encouraged to show more interest in sciences. 'My message to other pupils is that they should embrace science subjects because they are easy to understand and interesting,'' he said. Ebere aspires to become a medical doctor.
Every year, Mobil Producing Nigeria Unlimited in conjunction with the Nigerian National Petroleum Corporation and the STAN organises science quiz competition for primary and secondary school pupils in Nigeria. The main objectives of the yearly competition are to encourage the development of science education in the country; and reward pupils that show greater interest in sciences.
But while it was a moment of accomplishment for Ebere and his partner, it was a time of disappointment for 15-year-old Chidiebere Okereke of the University of Lagos International School who was one of the pupils that represented Lagos State. He expressed sadness at the performance of the state in the final competition. Lagos State came second in the overall competition. 'I don't feel good because I thought we would win in this competition having been ahead of other states in the preliminary competitions,'' Okereke explained. Lagos State came to the final competition for the secondary school category with 112 points thus leading Enugu which had 110.75 points, Delta, 106 points and Plateau, 105.75 points respectively. But at the end of the finals, Enugu came first with 124.75 points, Lagos came second with 122 points, Plateau clinched the third position with 119.75 points and Delta came fourth with 118 points.
The pupils went through written and oral quiz competitions. The questions were on life sciences, physical sciences, mathematical sciences, vocational sciences and technological sciences. Though all the 36 states of the federation and the Federal Capital Territory took part in the competition, only 19 states came for the finals.
Okereke wants to become a chemical engineer. He loves chemistry, physics and mathematics and encourages other pupils to embrace the competition. 'It will bring out the best in them,' he said. He told our correspondent that he spent two months in earnest preparation for the competition.
In the primary school category, the top four states that participated in the final competition were Rivers which came to the finals with 83.75 points, Abia-89.5 points, Ondo-90.5 points and Delta-94.5 points. The pupils were taken through three rounds in the final stage of the competition. Eventually, Delta State came first with 104.5 points, Ondo State, second with 100.5 points, Abia State, third with 93.5 points and Rivers State came fourth with 91.75 points.
Individual winners in both primary and secondary school categories went home with cash prizes ranging from N50, 000 to N200, 000. In the primary school category, the winner got N100, 000 while the second and third position winners got N50, 000 each. In the secondary school category, the winner got N200, 000, while the second and third position winners went home with N100, 000.
Describing every participant at the competition as a champion, Manager, Deep Water Project, Mobil Nigeria Unlimited, Mrs. Tolulope Ewherido, congratulated the pupils. She said, 'We believe investment in science education is investment in the future of Nigeria and we believe in equipping Nigerian children for the future,' she explained.
She commended STAN for shaping the lives of the pupils, adding that all the pupils that participated in the competition demonstrated courage and hard work.
Asked to comment on the competition, the Chairman, Quiz Bureau, Prof. Peter Okebukola, described participants in this year's competition as brighter than previous years. According to him, this development offers a ray of hope for science education in Nigeria.
He said, 'The task this year is more difficult. The candidates performed better than last year's candidates. The pupils were subjected to a higher level of difficulty and they responded quicker than previous years.'
This, according to him, shows that there are brighter pupils in the system. He also adduced the better performance of the pupils to the improved selection process in states. 'The selection method in the states has been fine-tuned leading to emergence of better candidates from the states,'' he added.
Beyond this, Okebukola observed a general improvement in the delivery of science education translating into better performance of pupils in secondary schools. He attributed this development to the intervention of various states in providing laboratory equipment in schools as well as workshops for STAN members. But he said these efforts might not yield the desired impact except other things were put in place.
'There are still deplorable laboratories in many states, teachers are largely poorly prepared, teaching and learning environment is still poor. Intervention by the Universal Basic Education Commission, Step B project and others are impacting on education but the teacher factor is critical. Unless this is well addressed, the effects on pupils will not be as much as we expect,'' he said.
He said continuous efforts aimed at training and retraining teachers must be made; STAN should be supported in its yearly national workshops for teachers while education curriculum should be engineered for a five-year degree programme-four years of that should be for training and one year for practical.
In all, cash prizes totalling N1.5m, laptop computers and trophies were presented to winning pupils and teachers.
Science Primary School, Bwari, Abuja came first in projects in the primary school category. Other winners in the category were: AUD Primary School, Osasaye, Oyo State, which came second and CA Primary School, Benin, Edo State, which came third.
Saint Louis Girls Secondary School, Akure, Ondo State, came first in the secondary school category while Mommies Secondary School, Lokoja, Kogi State and New Karu Secondary School, Nassarawa State, came second and third respectively. Winners received cash prizes ranging from N50, 000 to N300, 000.
St. Louis won the Secondary Schools' National Theme Project, with 'Fruits and Vegetables Preservation Bin', using local materials including charcoal, jute bags, raffia basket or perforated rubber basket, sand and water.
Komolafe Nifemi and Asaolu Doyin, who represented the school, went home with N150, 000 star prize.
The National Planning Officer of the United Nations Educational, Scientific and Cultural Organisation in Nigeria, Dr. Osu Otu, who was at the presentation of the awards in Abuja, said Nigeria's development would depend on the attention paid to science and technology education.
He observed that the number of girls taking up science- based courses was dwindling hence the interest of UNESCO in efforts to halt the trend.
He explained that UNESCO was working closely with STAN to increase the number of girls taking up the sciences at all levels.
He said, 'The major difference between developed and developing nations is just the investment they make in the application of science and technology in their national development. They invest so much money in the development of their nations through science and technology.
The Senior Education Specialist of the World Bank in Nigeria, Mr. Tunde Adekola, said the World Bank was prepared to continue to invest in the future of Nigeria by supporting education initiatives.