WAITING FOR BOSTON ORACLES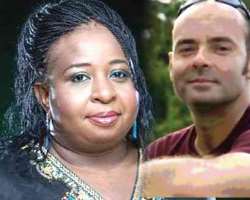 L-R: Anyiam-Osigwe and Sacchi
Nigerian film makers eagerly await experts from the US to be part of a training programme organised by the African Movie Academy and the Coalition of Nollywood Guilds and Associations, AKEEM LASISI reports.
In the next few weeks, looking for a good number of Nigerian directors, designers, actors and cinematographers at locations will be a futile effort. This is not to say that any of them is on strike. Rather, the film makers are going to be busy attending a training programme in which some notable experts from the United States are going to share with them principles of making standard films.
Powered by the African Movie Academy, the parent body of the African Academy Movie Awards, the programme coming under the auspices of the Coalition of Nollywood Guilds and Associations, is a fresh effort to breathe life back into the film industry and other branches of the creative industry.
While some experts from the country are part of the resource persons, from the Centre for Digital Imaging Art, Boston State Universities are coming Franco Sacchi and Robert Caputo as facilitators.
At a meeting where AMAA Chief Executive Officer, Peace Anyiam-Osigwe, and CONGA chiefs, including its President, Bon Emeruwa unveiled the plan for the programme in Lagos on Wednesday, several practitioners present expressed great expectations at the initiative.
Kingsley Oyisama of 441 Studio, Lagos, who has benefitted from a related training organised by AMAA, for instance, says, 'A lot of people who have been in the business for a long time still don't know things as basic as handling a camera. So, we need every opportunity available to make us masters of our trade.'
According to Anyiam-Osigwe, the training is placing emphasis on the technical aspects of film making because those are the areas where the real challenges lie. She notes, 'When many people complain that the problem of Nollywood is lack of equipment, I tell them they are not very right. The problem is not lack of equipment. The equipment is here with us. For instance, no matter what type of camera you are looking for, someone somewhere has 20 of it kept somewhere. The problem is getting the person to handle it in a way that will give you an excellent result.'
Anyiam-Osigwe also used the opportunity of the briefing to intimate the film makers of the progress that AMAA has made in recent times. Apart from having secured an expansive office in Allen, Ikeja area of Lagos, it has set up functional regional offices in Ghana, Kenya, South Africa and Egypt. Towards making the screening process of the 2010/2011 edition of the AMAA awards tight, she adds, the academy had made an early call for entries – but with an emphasis on the fact that the entries will close in November.
'Some people write different things about the screening process. What they don't know is that if our screening process was easier than what we operate now, it would have saved AMAA a lot of money.
On his part Emeruwa stresses that beyond anything else, Nigerian film makers should devise ways of taking the sector to the height they dream. According to him, experience has shown that neither government nor its agencies have any concrete programmes to uplift it.
'The mistake we made in the last four years is that we all sat back and waited for the government to do something,' he says. 'It was in the process that we realised that government does not have any plan for us. It does not even seem to be in the interest of government officials to see our industry thrive on its own. What we just need to concentrate on is how to improve professionalism, make quality films and strengthen distribution structures. If a tenth of the about 900 million people in Africa see the Nigerian film, the business is done.'
For Iyen Agbonifo of the Creative Designers Association of Nigeria, the training is another proof that AMAA has been there for the industry.
'The amount of support we have got from AMAA is huge. The academy has been there for us. A training that AMAA organised for us in 2008 got some of us thinking. I found out that there were a lot of things I could do better. But because one had not got adequate exposure, one was just limiting oneself. I particularly realised there were too few production designers in the industry. That got me back to school. I believe it should be on record that we have gained a lot from AMAA.'
The training for the directors is expected to hold between September 17 and 19; the one for screen writers on September 23 to 25; while another holds between October 14 and 17.