FOUNDATION PLANS BIG FOR OPUTA'S BIRTHDAY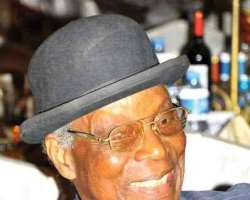 Chukwudifu Oputa
When erudite retired judge, Justice Chukwudifu Oputa, clocks 86 on October 2, a big feast being planned in his honour is bound to lengthen the celebration of the Golden Jubilee anniversary of Nigerian Independence.
As part of a programme being prepared accordingly, the crème-de-la- crème of the Nigerian society is expected to honour the father of the popular artiste, Charly Boy, at Sheraton Hotel and Towers, Abuja.
The event tagged 'celebration of integrity' is being put together by Justice Oputa Foundation, which is also scheduled to be launched the same day.
According to the Executive Director of the foundation, Princess Gloria Iweka (OON),the vision of the foundation, which covers health, education, conflicts management and climate change campaign, is to see a continent devoid of poverty and injustice, and in which every human being enjoys their right to a life with dignity.
The event will also witness the launching of Justice Oputa foundation (JOF). The JOF is an initiative committed to raising the continental bar on the jurisprudence of good governance through its campaigns against poverty and, for social, democratic, human and environmental justice up to shoring up the dignity/humanity of African people making use of the instrumentality of assured food security system.
Iweka says, 'It is expected to work directly with communities and seek to influence the powerful to ensure that poor people can improve their lives and livelihoods and have a say in decisions that affect them.