Protesters Storm EFCC Over IBB; Non-Trial Of Halliburton Suspects, OBJ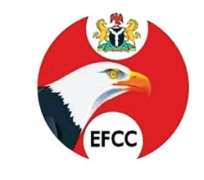 ABUJA, Sept 16, (THEWILL) – Student protesters today stormed the Abuja headquarters of the Economic and Financial Crimes Commission, (EFCC) over the 'non-trial' of persons indicted in the bribery scandal rocking American oil company, Halliburton. They also protested over the presidential ambition of General Ibrahim Babangida.
The over 200 protesters sought to know why the anti-graft agency has not charged the suspects to court when it has completed its investigation on the matter. They accused the commission of shielding former president, Olusegun Obasanjo from trial in its investigation of the over $180 million dollars Halliburton case.
Leader of the group of protesters who also circulated a statement from National Association of Nigerian Students (NANS), Joint Campus Committee, Ondo-Ekiti Axis, Mr. Muslim Maigari accused the commission of bias saying, "high profile suspects are being given the sacred cow treatment by the commission," warning that Nigerians will no longer tolerate such.
The statement by the Chairman, Gbenga Oyebode, and Secretary, Adebayo Olumide of the Ondo-Ekiti Chapter of NANS reads, "We the Nigerian students under our association are very much concerned about what becomes of this country if Ibrahim Badamasi Babangida becomes the next president of this sick nation.
"After a critical review and psycho-analysis of his administration as the head of state in 1988, we wish to remind IBB that the menace in the education sector was as a result of his misadministration when he served as a military president so what right has he to abuse the youths?"
"On this ground, Nigerian students of JCC, Ondo/Ekiti states axis, call on President Goodluck Jonathan to set up another sincere and transparent panel that will see to the allegations against IBB. If found guilty, he should be penalised according to the law.
"We shall organize ourselves (in protest), even in the South-West in general, to drive home our position on his ambition if the Presidency refuses to do something to probe IBB.
"We want to ask, if he has no skeleton in his cupboard, why he refused to appear before the Justice Chukwudifu Oputa panel to defend the entire allegations levelled against him."
The protesting students also chanted anti Obasanjo slogans accusing him of using President Goodluck Jonathan to frustrate investigations into his alleged corrupt practices while he was president.