N70M GRAFT: WE CLEARED JONATHAN'S WIFE – RIBADU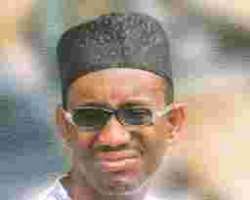 Former Chairman of the EFCC, Mallam Nuhu Ribadu
A former chairman of the Economic and Financial Crimes Commission, Mallam Nuhu Ribadu, on Thursday said he never handled any corruption case against the wife of the President, Mrs. Patience Jonathan, while he was in office.
He also said that the EFCC under him, cleared her of a N70m purported money laundering allegation, linked to her and a business partner, whose identity, he could not readily give.
Ribadu explained that it was this N70m that political opponents of President Goodluck Jonathan changed to $13m in 2007, when he wanted to contest as governor of Bayelsa State.
He said, 'I never handled any case against Mrs. Patience Jonathan. It was a case involving one lady who was reported by a bank; there was a lodgment of about N70m. And while we were investigating it, we discovered that she did a contract in Bayelsa State , which we did not have difficulties with.'
Asked if the EFCC cleared Patience, Ribadu declared, 'She was cleared.'
Ribadu said these in Abuja at an interactive session with journalists, during which he told them of his interest in the 2010 election. He also craved for media support as they did during his days at the EFCC.
He declined to be specific on the position he was gunning for and the political platform he intended to use to actualize his ambition, stressing that he did not want to jump the gun.
However, he said that his decision on all this would be made public very soon.
However, it is public knowledge that Ribadu is romancing with the Action Congress of Nigeria, just as leaders of the party are exploring the possibility of his running as the party's candidate in the presidential poll.
On his agenda, if picked by a party to flag its flag, Ribadu said he was dreaming of re-making Nigeria.
Ribadu listed security, ending corruption, job creation, building functional education system and hospitals, justice and fairness and responsive leadership as his priorities if he had the opportunity to serve Nigeria at the highest level.
He explained that his 25 years in the public service had adequately prepared him for the job.
He said, 'I have served 25 years of my life, I have given it to the nation. I had the chance to set up an agency (EFCC); I ran it for five years. I was in an Economic Team. I was a federal prosecutor, probably more than any other person in that capacity.
'I was a police officer, a community worker, I put all my life into public service at the Federal Government level. It is only natural for you to really put that into where the experience can best count.'
'I want to remake Nigeria . The point is: Remake means a new thing, a fresh thing, a fresh hub, a chance for us to love ourselves to build a nation out of our own country.
'I want to immediately, instantly, provide those basic things. They are so important to us. I must insist that we must have security immediately, instantly, there is no time to waste on that. I want to see that we can immediately solve the problem of power.'
Asked how the miracle on the power would be achieved, Ribadu vowed to break the jinx.
He explained, 'I will do it; I will come out with my programme and policy. It is not something you can give in one word. I want to put a full stop to corruption,' he added.