Omotola Steps up Social Responsibility Drive, floats Youth Empowerment Programme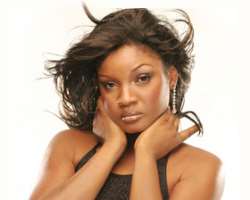 "Desire is the key to motivation, but it's the determination and commitment to an unrelenting pursuit of your goal - a commitment to excellence - that will enable you to attain the success you seek." These insightful words of wisdom are from Mario Andretti and can be literarily likened to the exemplary life of an entertainment icon, Omotola Jalade-Ekeinde. As we all know Mario Andretti is a retired Italian-American world champion racing driver, one of the most successful Americans in the history of the sport.
In recent times the news we often hear about most female Nollywood actresses whether in the Yoruba or English genre has always been a disappointing one. According to feelers from the media, most of them are single parents leaving no good legacy for those young talents who are coming behind in the movie industry. But in total contrast to these disturbing reports, an Ondo born leading actress and successful musician, Omotola Jalade Ekeinde has come out bold to reposition the battered image of the Nigerian entertainment industry especially its impacts on the female folks. She has really pinched her tent even as she superlatively recorded key milestones both in the music and in the make-believe industry leaving no setbacks to her home front. She has undoubtedly chosen an enviable path which is seemingly worthy of emulation. Omotola has indeed done Africa proud, locally and internationally, within the ambit of what she knows how to do best.
Interestingly Omosexy as fondly called by her teeming fans, out of her usual and unrelenting poise for value and integrity floated Omotola Youth Empowerment Programme. It is a Non Governmental Organisation (NGO) that is borne out of the desire of this indefatigable icon (OMOTOLA JALADE EKEINDE) with the intent to give back to the society for their love and support all through her professional career. It was formerly launched in 2004 with the introduction of youth convention, a powerful road walk which paraded lots of Nigerian youths in their hundreds, as well as movie and music stars in solidarity with their own, Omotola. Some of the objectives of this brainchild is to curb crime, youth restiveness and other social vices and to create a veritable platform where youths can interact with professionals that have sailed excellently in their different field of endeavours. Other objectives are to keep youths busy in and out of trouble, and ultimately to bring back sanity to the Nigerian society; thus she may just be doing it right to consolidate the Federal Government's rebranding effort, Good People Great Nation.
Parts of the successes recorded by Omotola's initiatives are; first ever balloon party/youth convention, quarterly conventions, computer training for youths. Another strategy she has also adopted is ''give and let give'', this is primarily created to encourage people to give to the needy in the society. The organisation accepts any items from individuals, religious bodies, Government at all levels, media, agencies, ministries, parastatals, other NGOs, financial institutions, corporate organisations etc, with the aim to distribute those items to the needy; like orphanage homes, welfare centres, remand homes etc. Although the organisation so far has being getting positives responses from organisations like Gangali, Kore, Harrisong. Others are United Nations Children's Fund (UNICEF), Chivita, Sweet Sensation, 12 baskets, Oven N bakes. The platform is however open for free admission but according to the organisers those who will be coming must come with gift items which could be given to the needy, such items could be footwear, clothing materials, beverages, etc, cash donation will also be welcomed. This distinct even has been scheduled to hold at Fantasy-land Ikoyi, Lagos precisely on the 26thof Sept, 2010 (10am-6pm). Artists who are expected to perform are Soundsultan, MI, Helen Paul, Asha to mention a few.
Records have it that sultry actress, Omotola Jalade-Ekeinde, was chosen ahead of other showbiz personalities as the new United Nations Ambassador of Goodwill in 2009. The beautiful mother of four, who sometime returned from UN-sponsored trip to war-torn Liberia, tagged "Walk the World" programme, an initiative targeted at alleviating the suffering of hungry Africans. Subsequently upon arriving Liberia, Omotola said the contingent's first point of call was at the Nigerian Embassy in Monrovia, followed by a visit to Lone Star Cell Telephone Company and the highlight of the three-day event culminated in a visit to an orphanage in Monrovia, where Omotola prayed and played with the homeless waifs.
She also led the delegation on a courtesy visit to ECOMOG camp, comprising of Nigerian and Ghanaian peace-keeping forces, where she was feted by the Nigerian commander. The trip also afforded the Nigerian actress the opportunity of gracing the Miss Liberia beauty pageant opening, where she was one of the main attractions. The grand finale of the event commenced at exactly 9 a.m. on 21 May, 2009 when the walk took off with Omotola and the first black female president in Africa, Ellen Sirleaf Johnson, leading the mammoth crowd that had gathered to watch the event. The United Nations chose the Nigerian superstar actress based on the outcome of the credibility poll carried out on several showbiz personalities by the conflict resolution board. United Nation's Goodwill Ambassador and Nollywood diva, Omotola Jalade-Ekeinde was presented with an Award of Excellence by the Organization of African Female Entrepreneurs (O.A.F.E) for her exceptional achievements in Entertainment and, her commitment to the less privileged. The event was held on Sunday July 12th 2009, in Washington D.C. The achievements of this woman is enormous she is indeed an African pride.
Omotola Jalade Ekeinde got married to Capt. Matthew Ekeinde (14 years ago), she is blessed with four kids. Her first role in a movie came in the film "Venom of Justice"(1995). Omotola Ekeinde burst into the Nollywood film industry with the movie "Mortal Inheritance" (1995) where she played a sickle-cell patient who fights for her life even when she knows she might not be able to live. At the end of the day, she has a baby and eventually lives. This film which received good reviews won her awards for her role in the movie and is still known as one of Nigeria's best movies ever made. Ever since then she has not looked back and she has starred in blockbuster movies like "Games Women Play", "Blood Sisters", "All my life", "Last Wedding", My Story, The Woman in Me, Mind Game and a host of others. On her musical efforts, her debut album which gained so much prominence was titled ''Gba'' and her sophomore album titled "ME, Myself & Eyes" will soon be launched. The album will contain 12 tracks including collaborations with various artistes including Modenine,Paul Play Dairo, Teeto and Harrisong. Tracks on the album include "Stop The War", "Feel Alright", "Keep Going", "Call Me", "Through The Fire" and "Missing U".