SSS Murder: Son Confesses To Killing Entire Family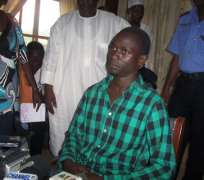 KANO, Sept 15, (THEWILL) – What you are about to read is chilling, shocking and unbelievable. The suspected killer of Garba Bello, a senior operative of the State Security Service (SSS) who was killed alongside his wife and three children, last Monday, has turned out to be his eldest son.
In an interview with THEWILL at the police headquarters today in Kano, the accused, Bello Garba aka Baba 23, said he took the action because of the condition of his sick father, stating that technically he did not kill his father because he had already died before he decided to kill his mother and his three other siblings, that is, his brother and two sisters.
The suspect added that he wanted to murder the entire family including himself, but that after murdering them all, he changed his mind and decided to spare his own life.
According to Baba, he took the action because without their father, life would be unbearable for the family, "so I just killed them all with knives I took from the kitchen."
When asked as to why there were wounds around the father's neck if he was not the one that killed him as he said, the suspect could not say anything.
On whether he had others who helped him execute the murders, Baba said he did it alone, adding that he killed them all at the back of the family compound, where their bodies were discovered.
Meanwhile, the state Commissioner of Police, Alhaji Muhammad Jiya Gana, has told newsmen that Baba decided to take the action because of the economic situation in the country, since the father had been sick, and that if he died, the responsibility of taking care of the family would be on him especially now that he is now jobless.
It could be recalled that the five deceased were found in their house at Zoo Road Housing Estate Monday, fueling speculations that the murders may have been politically motivated.
Those murdered in the incident were Garba Bello 54, his wife Habiba, 40, his 14 year-old son, Khalifa; Hafsat and Murjanatu 16 and 5 years old respectively.