A TABLE GOES FOR N1M AT OMOTOLA'S VIP ALBUM LAUNCH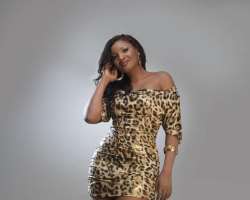 Actress cum musician, Omotola Jalade-Ekeinde has officailly announced a date to drop her sophomore album, ME, Myself And Eyes.Omotola as she is fondly called by her fans disclosed that the album launch will hold on the 24th and 26th of September, 2010.
All set to lift the bar of album launches we have so far seen in the entertainment industry, a table consisting of 10 seats at Omotola's VIP album launch goes for N1million, in an undisclosed hall that will seat 300 people. Dignitaries from the governmental circus are expected at the strictly by invitation launch on 24th of September, 2010.
Omotola who says she's not just a drama queen but an all round entertainer has 12 tracks in her album. 'Me myself and eyes' is not only rich in tune but has an undisputable lyrical strength with songs like 'feel alright', 'keep going', 'missing you', 'call me' and some others.
Alongside Omotola, the album features the likes of Mode 9(stop the war), Harrisong (feel alright), Paul Play (through the fire) and Teeto.
| | |
| --- | --- |
| 184P3383 | 184P3408 |
| 184P3413 | 184P3452 |
| 184P3459 | 184P3591 |
| 184P3731 | 184P3781 |
| 184P4098 | 184P4525 |

Not leaving out any of her fans, Omotola will hold a public launch of her album at Fantasy Land in Lagos on the 26th of September. The public launch of Omotola's album will also be accompanied by the launch of her project 'Give and let's give'. All her friends and fans are expected to come with gifts that will be put together for charity purpose.

Signed
Bigsam Media
September 14, 2010
Lagos| Nigeria