EFCC Condemns Murder Of Top Staff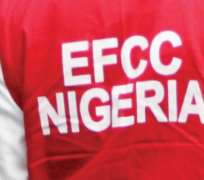 ABUJA, Sept 14, (THEWILL) - The Economic and Financial Crimes Commission, EFCC, has condemned the murder of one of its top officials in the early hours of Tuesday September 14, 2010 inside his Kaduna residence.
While condemning the dastardly murder of Mr. Abdullahi Muazu, who until today was the officer in charge of its forensic unit, the anti-graft agency in a statement on Tuesday also accused Rivers State government of sponsoring planned attacks on its officials and office in the state capital, Port Harcourt.
According to the statement, "Information reaching the commission today confirms that our head of forensic unit was killed in a cruel manner in the early hours of today by unknown assailants.
"Those behind this attack may have succeeded in killing a strategic hand and a key witness in some of our on-going cases but their act has failed to dampen our spirit or deter us from continuing our investigation and prosecution of all forms of economic crimes and corruption in the country."
The Chairman of the EFCC, Mrs Farida Waziri has already directed a team of operatives from the Abuja headquarters office of the commission to proceed to Kaduna to assist the relevant security agencies in the investigation of the murder.
Meanwhile, the Commission has said that information available to it indicates that the Rivers State government is sponsoring well planned attacks on its officials and office in Port Harcourt.
"Information available to us indicates that public funds are again being diverted in Rivers to sponsor attacks on our men and office in Port Harcourt. These attacks are to begin with the mobilization of 1000 persons from each of the 23 local government areas of Rivers State to stage a protest against the EFCC on Wednesday September 15.
"This is to be followed by yet another protest by various women groups rejecting the presence of EFCC in the state. The real motive behind these sponsored protests is to set ablaze the Commission's zonal office in Port Harcourt in a desperate bid to cripple the EFCC's activities in the state and the entire South-South region.
"The commission wishes to assure all that while it will continue to do its work within the ambit of the law, it has the right to defend itself and its officials against hirelings who have been paid to attack us under the guise of staging protests.
"The EFCC remains a creation of the laws of the Nigerian Federation and as such, no force of gangsterism in any part of the country will stop it from carrying out its statutory responsibilities," the commission assured.