ARNOLD SCHWARZENEGGER SELLS CALIFORNIA TO EAST ASIA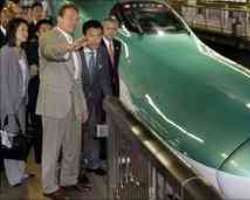 Japan is hoping to win a contract to build its high-speed trains in California
California's governor, Arnold Schwarzenegger, has visited East Asia to try to drum up trade with the region and attract inward investment.
California's economy is facing problems. It is the eighth largest economy in the world but it faces a budget deficit of $19bn (£12bn).
In Japan, Mr Schwarzenegger was looking for help with infrastructure and markets for Californian goods.
According to the governor, trade is critical to California's economy.
Speaking ahead of the mission he said: "California is uniquely positioned to take advantage of the exploding Asian markets. China, Japan and Korea… represent 1.5 billion population. This is 1.5 billion potential consumers for our products."
'Salesman in chief'
"You will see me selling here in Japan for these next 24 hours," he told 500 people at a breakfast arranged by the American Chamber of Commerce in Japan.
The perilous state of California's finances have seen Schwarzenegger's popularity at home fall to an all-time low but he told journalists that he would serve as "salesman-in-chief" during the trip.
Before he left, he came in for criticism that he would be away during a difficult time for the state, which two months into the financial year has still not agreed a budget.
He stressed that the trip was not being funded by California's taxpayers.
During the trade mission, on which he was accompanied by 100 business leaders, he has been talking up California's surfing, skiing and golf offerings, as well as its technology centres and wineries.
South Korea was the last stop on the trade mission
But it is a two-way street.
California is also looking to invest in its transport infrastructure and the governor has been sampling Japan's high-speed bullet train.
"I'm very impressed with the technology and also with the infrastructure," Mr Schwarzenegger told reporters after his hour long round-trip on the train.
Japan is hoping it will be considered for a contract to build a new high speed train network in California.
Because of California's cash-strapped position Japanese officials have said they are prepared to offer a loan to help win the project.
However, Japan is not alone in bidding for the work. In Shanghai earlier in the week, a memorandum of understanding was signed between the Chinese Ministry of Railways and the Bay Area Council for investing in California's future rail network.
The last stop on the trade mission was South Korea.
While there Mr Schwarzenegger signed another agreement to strengthen trade ties with the Kyunggi Province.