SEVERAL HURT IN SAINSBURY'S COFFEE MACHINE EXPLOSION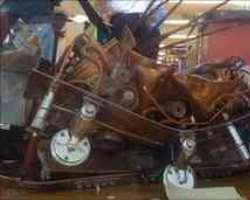 Sainsbury's said a ruptured pipe in the machine caused the blast
A number of people, including customers, were hurt when an industrial coffee machine exploded at a Sainsbury's supermarket in Hampshire.
Fire crews were called at 1225 BST to the Kingsmead centre in Farnborough after the blast in the store's cafe.
Six people suffering mostly from minor injuries were taken to hospital. Others were treated at the scene.
Sainsbury's said a ruptured pipe caused the explosion. The store was evacuated but has now reopened.
Eyewitness Sue Smith said: "As I came along I [heard] a bang.
Eye injuries
"One woman [screamed] and I thought what's happened here.
"I saw a lady with her hand up at her face looking down… but I wasn't sure what had happened.
The store was evacuated but later reopened
"We could see in the window that the coffee machine was all mangled."
A Sainsbury's spokesman said: "Colleague and customer safety is our main priority.
"The store was evacuated and closed while the council's environmental health officers undertook an inspection.
"The cafe will remain closed until we have completed a full investigation into the cause of this incident."
Five of those taken to Frimley Park Hospital in Surrey have been discharged with one still receiving treatment.
One of those injured included a 23-year-old woman with head, arm and eye injuries, the ambulance service said.
Rushmoor Borough Council has started an inquiry.