INTEL HOPES NEW CHIPSET WILL CHANGE PC INDUSTRY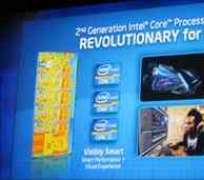 Sandy Bridge boasts one billion transistors
The world's biggest chip maker, Intel, has unveiled the chipset it is banking its immediate future on and one it hopes will shake up the market.
The product, code-named Sandy Bridge, is Intel's first architecture to merge a microprocessor and graphics processor onto a single chip.
It is designed to cut the time it takes to produce images.
Continue reading the main story
Related stories
Hardware chip battle heats up
Intel in $7.68bn McAfee takeover
The company is betting the new technology will win over both PC vendors and consumers.
It recently cut sales forecasts because of weaker than expected PC demand.
"Sandy Bridge will revolutionise PCs again," Paul Otellini, Intel's chief executive told its annual developer forum being held in San Francisco.
"On one single chip, we've put in place all the critical capabilities for computing. This is a very important chip for Intel," he added.
The chip will target low-end desktop computers and laptops and is expected to be ready to go to customers early next year.
Putting the two processors together will cut the time it takes to produce images as it removes bottlenecks between the graphics processor and memory.
It will also improve battery life and power consumption.
"This is a big deal and we are all interested to see how the chip performs when it gets out into the real world next year," Martin Reynolds, managing vice president of research firm Gartner told BBC News.
"I don't however think it will revolutionise the industry but it does force that continued change that is part of the history of the PC industry. Intel has to keep new technologies coming to the market that keeps its growing so it is a big bet for the next couple of years."
'Killer'
Sandy Bridge is expected to cause headaches for Intel rival Nvidia, the maker of stand-alone graphics chips.
Technology blog VentureBeat has called Sandy Bridge an "Nvidia killer".
Nvidia said it is not worried about Intel's move and in a statement underlined that sentiment.
"Intel's been proclaiming the death of discrete graphics for years, but real GPUs (graphics processing units) just keep getting more important."
Advanced Micro Devices is also expected to feel the heat from Sandy Bridge. It has been working on its own hybrid chip for a while, but many analysts feel it has lost ground by not staying ahead of Intel
Notebooks and desktops with AMD's accelerated processing unit are expected in early 2011.
"It's hard to tell what will shake down because we haven't seen the performance benchmarks or specs from Sandy Bridge or from AMD's Fusion," said Jim McGregor of research firm In-Stat.
"If that migrates all the way up to mainstream computing, it just leaves that high end which is a very small percentage of the market, then you have to say this is a huge concern for Nvidia."
Security
The company failed to provide substantial details on the technical thinking behind its $7.68bn acquisition of McAfee as it awaits approval.
The deal, the biggest in the company's 42-year history, surprised many in the industry when it was announced.
At the time the company said that the acquisition reflected that security was now a fundamental component of online computing.
Security is crucial as the number of internet connected devices grow
That view was echoed in Mr Otellini's keynote speech as he told thousands of developers it marked an opportunity to "offer secure capabilities across all Intel connected products".
Intel added that its security approach did not fully address the billions of new internet-ready devices, including mobile and wireless devices, TVs, cars, medical devices and cash machines.
"The amount we trust our devices to protect us is going up all the time and the bad guy threats are going up at the same time. Security is becoming a more complex topic with the proliferation of devices. We are trying to change how platforms are secured," said Mr Otellini.
Both companies have been collaborating for the last 18-24 months on products and the first chips incorporating new security software are expected to appear next year.