YEN HITS FRESH 15-YEAR HIGH AGAINST US DOLLAR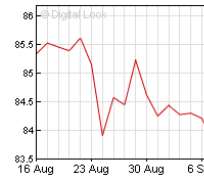 The yen has hit a new 15-year high against the US dollar after Japanese Prime Minister Naoto Kan won a vote for control of the ruling party.
The dollar slid to 83.09 yen shortly after it was confirmed that Mr Kan had survived the leadership contest. It was later trading at about 83.40 yen.
Analysts fear the rising yen is undermining Japan's recovery, making exports less competitive overseas.
The record low for the dollar is 79.75 yen, reached in April 1995.
Mr Kan's defeated opponent, Ichiro Ozawa, had been seen as more likely to take action to combat the strength of the yen.
"Ozawa had made comments that had been stronger on intervention, so there was a knee-jerk reaction to Kan's win," commented Simon Derrick, head of currency research at Bank of New York Mellon in London.
But Koichi Haji, chief economist at NLI Research Institute in Tokyo, said: "Kan probably won't be as forceful in calling for monetary easing by the Bank of Japan (BoJ) as Ozawa. But that doesn't mean the BoJ won't come under pressure. If the economy worsens, Kan will certainly ask for further monetary easing."