BEST BUY SHARES JUMP FOLLOWING STRONG PROFIT RESULTS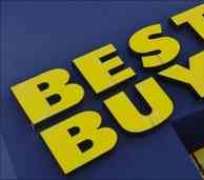 Best Buy's results beat analysts' forecasts
Shares in consumer electronics retailer Best Buy jumped nearly 6% at the start of trading in New York after it posted a better-than-expected 61% rise in second quarter profits to $254m.
Best Buy, whose total revenues reached $11.3bn, said increased mobile phone, netbook and computer sales had contributed to its strong results.
Revenues from its operations outside the US rose 6% to $2.9bn.
Earlier, government figures had shown US retail sales rose by 0.4% in August.
The figure was slightly better than analysts had expected, easing concerns about the strength of the US economy.