I KNOW WHY THE CAGED BIRD SINGS (MAYA ANGELOU)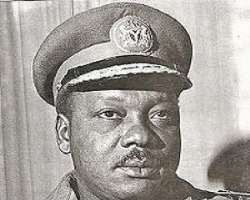 PHOTO: FORMER HEAD OF STATE, LATE GENERAL JOHNSON THOMAS UMUNNAKWE AGUIYI-IRONSI.

One of the major problems with Nigerian contemporary history is our collective reflexive instinct to "cover-up" and obfuscate. Part of this I feel stems from the military psyche of "not bringing the battlefield home"; what happens though, when the battlefield is home?
It is an undisputed fact that General T.J. Danjuma (retd.) effected the arrest of the then head of state General T.A. Ironsi in July 1966. From this point though, urban legend took over what history had failed to document: how General Ironsi actually died.
It was alleged by urban legend that Ironsi (whose nom de guerre was "Johnny Ironside" a nickname he earned as head of the UN peace-keeping forces in the Congo) was badly beaten, then tied to a Land Rover and dragged for several miles down the road, also allegedly by Danjuma himself.
This piece of fiction continued as fact – supported by silence – until recently when it was revealed by eyewitnesses – that day - and Danjuma himself (in a recent interview), that General Danjuma was not even present when Johnny Ironside was killed, along with Colonel Fajuyi.
What had happened on that fateful day was that - then Major – Danjuma had arrived on the scene without his own uniform having donned a borrowed uniform for the occasion. Expecting a "gentleman's surrender", he was stunned at the venom and rapid deterioration of the situation, as NCO's (non-commissioned officers) were now meeting out corporal punishment to the now former C.O. Ironside.
In an attempt to now intervene in the situation, he came under suspicion from the NCO's who were now - in a threatening manner – questioning who he "actually was" since his name didn't match the name on the borrowed uniform (it might be nice to know whose uniform this actually was, but "whatever")!
At this point Danjuma had to beat a retreat but when he returned, the C.O. and Colonel Fajuyi had been taken away.
So much of our history is like this; an opaque window, which until we can see clearly through we will continue to muddle in the dark. You read biographies and autobiographies where the authors – former military men who were present and involved in our contemporary history – writing purportedly books of historical fact, fill these tomes with references to: "A certain Major, a certain Captain, a certain civil servant", etc. etc.
Even when – In the case of General Madiebo, who wrote his own account of contemporary Nigerian history called "The Nigerian Revolution and the Biafran War" – this "certain person" has saved the protagonist's life, he still remains "a certain person"?
With the dawn of a new chapter in authorship on the contemporary history of Nigeria written by authors like Max Siollun, we're finally stripping off the urban legends and getting to the heart of Nigerian History. Recommended reading:
Oil, Politics and Violence: Nigeria's Military Coup Culture 1966-1976, Max Siollun
Nigerian Civil War, J. De St. Jorre
The Biafra Story, F. Forsyth
Why We Struck, A. Ademoyega
The Nigeria-Biafra War Letters, B. Adekunle
My Command, O. Obasanjo
Ironside, C. Iloegbunam
Nigeria's Five Majors, B. Gbulie
A Tragedy without Heroes, H. Njoku
Reminiscences, D. Ejoor.
Disclaimer:

"The views/contents expressed in this article are the sole responsibility of the author(s) and do not necessarily reflect those of The Nigerian Voice. The Nigerian Voice will not be responsible or liable for any inaccurate or incorrect statements contained in this article."
Articles by thewillnigeria.com