YOU DON'T KNOW YOUR MAN'S VALUES UNTIL YOU LOSE HIM – CHIEF (MRS.) FUNKE ARTHUR-WORREY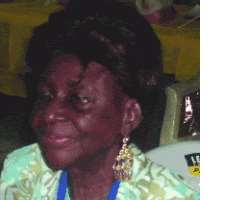 by PADE OLAPOJU
'Men go through a lot to please their wives. You don't know their value until you lose them.' These were the words of Chief (Mrs.) Funke Arthur Worrey, a past president of the Ikeja Lioness Club on her late husband, Chief Arthur Worrey who passed on two years ago.
As would be expected, widowhood has certainly not been easy for the octogenarian whose husband related to her as if they were twins. Recalling the pleasant and loving relationship they shared as a couple, she said: 'We were like twins. We used to think alike. He was there every time for me to talk to and ask for advice. The first time I travelled after his death was the first time in my life that I knew that one needs to fill forms when you are travelling… he was a good man and he loved Lionism.'
For her, Lionism has become a passion that keeps the spirit of her late husband and partner alive. For this, she was honoured with the Elders' Charter award of the club, which she led to win the District 404 Nigeria Lioness Club's Gold cup for charitable work during her presidency.
The Melvin Jones fellow and mother of Mr. Fola Arthur-Worrey, former Lagos State Solicitor-General and the Executive Secretary/CEO of the Lagos State Trust Fund spoke on these and many other issues with Sunday Sun recently when she dedicated her award to the Ikeja Lions Club. Excerpts…
You lost your husband two years ago. How has it been coping without him?
It's not easy. We were like twins. We used to think alike. He was a good man and he loved Lionism. He was always bringing 'stray' children home to live with us. He was there every time for me to talk to and ask for advise, the first time I travelled after his death was the first time in my life that I knew that one needs to fill forms when you are travelling. The things men carry are much. You don't know their value until you lose them. They go through a lot, but they don't show it because they want their wives to be happy.
Looking back, have you ever considered leaving the Lions Club?
Never!
Maybe you've had some challenges?
Everybody has challenges. Sometimes you don't have enough of what you want. For example, when you leave the comfort of your home to all these corporate organisations to raise funds, there are times you are treated like a beggar. But with patience and perseverance, they give you what you want once they know it is for the less privileged. They've been wonderful to us though, in spite of the economic meltdown, which has changed a lot of things. But you'll be surprised that some people have made up their minds to give. So we thank God for that. As for Lionism, whatever happens, I've been there for God knows when. I'm going to live and die as a Lion.
Women in Nigeria are being encouraged to participate into politics now. What advise would you give women going into politics?
Nigerian women were regarded as men's properties in some parts of the country. They are always putting us back. They never encouraged us. They frighten and blackmail us. The phrase then was: 'You are a woman, you are supposed to be in the kitchen and look after the children'.  And we didn't have money to fight the men. But now, things are changing. There's nothing the men have now that the women don't have. In fact we are doing it better. I will advise more women to go into politics. They must go out and register and then go out to vote. It is our right. And then we must advise our men because they were advising us wrongly. It is time our men listen to us.
One of the reasons I want them to go into Nigerian politics is to show our men that we can do it better. Years after our independence, we are still talking about zoning. Are we not all Nigerians? If you put a woman there, everything will work.
Are you advocating a female president?
Of course! I'm so confident of Nigerian women. Whether we like it or not, we are going to produce a female president in Nigeria someday.
What is your take on zoning?
Zoning is not in the Nigerian constitution. They said it was an agreement reached by the PDP. After MKO Abiola's death, the presidency was zoned to the Southwest to assuage the Yoruba. That was why they gave it to Obasanjo. To me, if we are to be sincere to ourselves, there should be no zoning. We should always use the best materials we have at any given time. Young, brilliant, dynamic materials should be presented for the Presidency irrespective of where they come from.
What does this award mean to you?
It is an International Lion's club award to show appreciation for people of the little they have been able to do and we have been contributing to their needs.
A woman of substance like you must have done so many things. What are those experiences you want the younger generation to share with you even as you are dedicating this award today?
A few years ago, I would say it was better to raise funds. Although some people may not have much, but they gave willingly. I never thought I could approach people to contribute for the blind or the needy. But then, that is Lionism. Nigerians are very generous. We are our brothers' keeper. We think of the comfort of our neighbours. So I would like to advise the young ones that there is nothing like giving. You know some of them are about to start life at this period with no light, no diesel, they think about generators, traffic, and security. But still they must know that there is nothing like giving. When you give, you'd be surprised where the reward will be coming from. It's a wonderful life.
Who are you dedicating this award to?
I'm dedicating it first of all to Ikeja Golden Lions Club because we worked together all this while. They are young and they are doing wonders. They are very good. You will be surprised what they go through to get money for their humanitarian projects.