THE MANY TROUBLES OF EMEKA OFFOR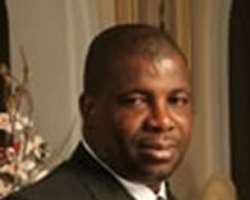 For some time now, controversy seems to have found a perfect alter ego in Sir Emeka Offor, the billionaire businessman behind Chrome Oil Services. You would recall that Offor's reputation as a billionaire without precedents reached inglorious heights during the first coming of former President Olusegun Obasanjo. Obasanjo and Offor are reportedly very close. In fact, he is alleged to be one of the many fronts of the former President. During the 2003 elections, Offor's donations formed a substantial part of his ally cum mentor's campaign budget.
Prior to that time, he had singlehandedly funded the election of former Anambra State Governor, Chinwoke Mbadinuju. On assumption of power, Mbadinuju held tight to the locks of the State's treasury, refusing to allow Offor burrow into it brazenly. They fell bitterly apart. Their embarrassing fall-out remains one of the anticlimaxes of Nigeria's third republic. He threatened that the governor would not come back to office like other PDP governors. He made good his threat. Mbadinuju has been in political wilderness since then. Indeed, the many controversies of Offor would make for a compelling narrative any day.
Just when you think the gangling Anambra native has been buffeted enough by troubles, he recently took on a foe with the potentials to humble and consume him, opening yet another page in his pitiable romance with trouble. Last March, the United Kingdom government deported Offor because of his involvement in "serious, organized criminality." We gathered that Offor had been under close scrutiny since December 2006 when he was caught with £700,000 stashed in his designer luggage which was seized alongside his UK travel visa and diplomatic passport he got under the Obasanjo regime.
Apart from the huge amount of cash found on him, Offor is believed to have a business relationship with a Houston, Texas-based oil company, EHRC Energy, which was raided by the FBI in 2006. Offor reportedly helped resolve a long running border dispute between Nigeria and Sao Tome through "gifts" to key political figures, while creating an offshore development zone where international oil companies could bid for the rights to drill.
Now, Offor is threatening fire and thunderstorm; spitting into the air and receiving it with accustomed ease, pointing and pouting and claiming that he is launching an all-out war against the UK government. Those who know say Offor is only barking but cannot bite because there is too much in his closets that the UK can nail him with.
Disclaimer:

"The views/contents expressed in this article are the sole responsibility of the author(s) and do not necessarily reflect those of The Nigerian Voice. The Nigerian Voice will not be responsible or liable for any inaccurate or incorrect statements contained in this article."
Articles by thewillnigeria.com