Dokpesi's Allegations: It's All Lies – Presidency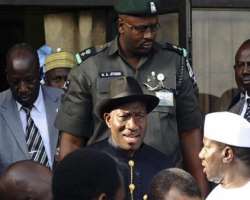 ABUJA, Sept 12, (THEWLL) - The presidency has fired back at the Director General of IBB Campaign Organization, Chief Raymond Dokpesi on the allegations of threat to his life saying that Dokpesi's allegation are 'a tissue of lies.'
"It beats us hollow what Dokpesi stands to gain beyond introducing chilling and quite sinister dimensions to the contest for the presidency in 2011," the Presidency said.
The reaction from the Presidency was spelt out in a statement signed by the presidential spokesman, Mr. Ima Niboro.
The statement reads: "Our attention has been drawn to statements by the Director General of the General Ibrahim Babangida campaign organisation, Chief Raymond Dokpesi, to the effect that the Presidency is after his life.
"Nigerians know those who are the "Masters" in the art of political violence and it is not President Goodluck Ebele Jonathan. Nigeria had enough of such deadly power games under the jack boots of dictators past, and in embracing democracy and freedom, we have said a resounding NO to them once and for all.
"We also note Dokpesi's claim that the tax authorities are after him, and ask that he nurses no fears since we assume he has been paying his taxes as at when due. We are after all, a law abiding society, and no one should fear the tax man if their taxes are up to date. Making unsubstantiated claims would not stop the tax authorities from doing their jobs", the statement said.
Chief Raymond Dokpesi had on Saturday accused the Presidency, South-South Elders Forum led by Chief Edwin Clark; former Chief of General Staff, Admiral Mike Akhigbe and three serving ministers of threatening his life following his association with the Babangida campaign organization.