Lagos ACN Celebrates Bola Ige, Calls for Re-Opening of Unresolved Murder Cases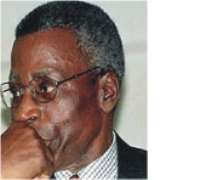 Bola Ige
On the occasion of his 80th posthumous birthday, the Lagos State chapter of the Action Congress of Nigeria has asked the present government to dig into previous unresolved murder cases and ensure that perpetrators of these murders are brought to book. The party insists that building on the graves of fellow Nigerians who have contributed to the growth of the country will never augur well for the peace and progress of the country.
In a release in Lagos, signed by the party's Lagos State Publicity Secretary, Joe Igbokwe, Lagos ACN says it constitutes a grievous injury to the patriotic spirit of patriots like Bola Ige to allow his murderers get away with the heinous act of his murder. It says that a country that allows its patriots to die and the facts of their murder buried under the carpet stands to continue on that bloody stretch.
"As a party, Lagos ACN is scandalized that successive governments since the brutal murder of Chief Bola Ige , who was assassinated while still holding office as the country's Attorney General has given only hypocritical attention to that dastardly act. We are even saddened that the brutal murder happened in a supposed democracy which Bola Ige slaved all his life to enthrone in Nigeria. We are sad that Bola Ige was killed in a supposed democracy when he survived many brutal military regimes.
"We note that since Ige's murder, the trial of the prime suspects in his murder has been politically manipulated to ensure that culprits in that heinous act walk away scot free and some of the suspects gained political favour with the same government that Bola Ige served. Lagos ACN believes strongly that his assassination tallied with the desperate attempt by the PDP government to take over the South West in 2003 through very violent means and we agree with the widely held views that his murderers are the people now calling the shot in the South West.
"On a general scale, we believe that the series of unresolved political assassinations in Nigeria since 1999 must be reopened to investigation to ensure that our country is not one large brutish clime where people are allowed to get away with blue murder so long as such satisfies the political interests of whoever commissioned such acts. We therefo9re use the occasion of Chief Bola Ige's 80th posthumous birthday celebration to demand for the re-opening of the assassination cases of Chief Bola Ige, Harry Marshal, AK Dikkibo, Ogbonaya Uche, Omatshola, Hassan Olakoju as well as those of Dele Giwa, Alfred Rewane and many other Nigerians who have been killed in similar circumstances and their murderers helped to evade justice.
"Lagos ACN strongly appeals to President Goodluck Jonathan not to adopt the same conspiratorial silence that has ensured that such murders are buried under the carpet. We want him to order full investigation of these cases and the perpetrators brought to justice no matter how highly placed they are. We want to let him know that how he resolves the murder of Bola Ige and all other patriots who have similarly been assassinated will go a long way in defining his regime in the minds of Nigerians."