Barack Obama pleads for tolerance in Koran-burning row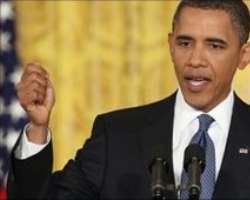 US President Barack Obama has made a plea for religious tolerance, amid the continuing row over a small church's threat to burn copies of the Koran.
But hours later the church, in Gainesville, Florida, issued a two-hour deadline for the imam of a proposed mosque in New York to make contact.
A spokesman for Pastor Terry Jones said he wanted clarity on whether the mosque would be moved from near Ground Zero.
The burning, orginally planned for the anniversary of 9/11, sparked outrage.
Muslims protest
Mr Obama told reporters at the White House: "We have to make sure we don't start turning on each other."
He repeated his concerns the burning would endanger the lives of US troops.
The proposed Koran burning prompted an angry reaction from Muslim countries around the world and was heavily criticised by world leaders.
Protests were reported in Afghanistan and Pakistan on Friday, as people emerged from Eid prayers marking the end of the holy month of Ramadan.
Three people were shot by private security guards when a protest near a Nato base in north-east Afghanistan turned violent.
Mr Obama appealed for people in the US to "rekindle the spirit of unity" felt after the 2001 terror attacks on New York.
"We are all Americans that stand together against those that would do us harm," he said.
"It is absolutely important now for the overwhelming majority of American people to hang on to that thing that is best in us - that is our belief in religious tolerance, our clarity about who our enemies are.
"I will do everything I can, as long as I am president of the United States, to remind the American people that we are one nation under God. We may call that god different names but we are one nation."
Global protest
Mr Jones is the pastor of the tiny and previously little-known Dove World Outreach Center in Gainesville, Florida and the author of a book entitled Islam is of the Devil.
He planned to stage an International Burn a Koran Day on Saturday, the anniversary of the 9/11 terror attacks on New York, saying the book was "evil".
On Thursday, he said he was calling off the protest after the group behind a controversial Islamic cultural centre due to be built near Ground Zero agreed to relocate it.
The group has denied making such a deal with Mr Jones, who later said he was only putting the burning on hold until he had met the centre's organisers.
Mr Jones said he was travelling to New York on Saturday to meet Feisal Abdul Rauf, the imam behind the centre.
The cleric said on Friday that he was "prepared to consider meeting with anyone who is seriously committed to pursuing peace" but confirmed that he had no current plans to meet Mr Jones.
In an extraordinary news conference later on Friday, Mr Jones and a spokesman KA Paul gave the imam two hours to contact them to clarify his position.
Mr Paul said there was confusion over the issue and he wanted it to be "crystal clear" whether or not the mosque was being moved.
The BBC's Paul Adam's, in Washington, says developments in the story are getting increasingly bizarre.
Three days ago, very few Americans had ever heard of Pastor Terry Jones. Now his pronouncements are competing for airtime with those of the president of the United States, our correspondent adds.
'Age of the internet'
In his remarks, Mr Obama denied that his administration's intervention in the affair had elevated it to greater prominence.
The FBI had visited Mr Jones to urge him to reconsider his plans and he was telephoned by US defence secretary Robert Gates.
"We've got an obligation to send a very clear message that this kind of behaviour or threat of action puts our young men and women in harm's way," said Mr Obama.
"In the age of the internet, it is something that can cause us profound damage around the world, so we've got to take it seriously."
He said the uproar had already made life more difficult for US military personnel serving overseas.
"The idea that we would burn the sacred text of someone else's religion is contrary to what this nation stands for, contrary to what this nation was founded on," he said.
"My hope is that this individual prays on it and refrains from doing it."