New Militant Group springs, against IBB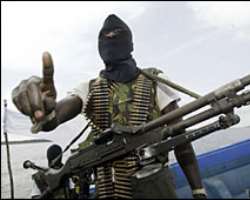 AHEAD of the 2011 polls in Nigeria, a new militant group has sprang up in the volatile Niger Delta


IBB
area, with a seeming vicious political agenda.
Spokesperson of the new group, Wilson Amaebim, an Ijaw, told AkanimoReports on Friday that the name of the organisain is Revolutionary Army of Niger Delta (RAND).
But, this insurgent group appears to be obviously against the presidential ambition of former military ruler, Ibrahim Babangida.
They have therefore warned that they will go after all those pushing for Babangida in the oil and gas region.
It was not immediately known whether this emerging terrorist group has any links with the Joint Revolutionary Council (JRC), an insurgent network that on Thursday, declared Chief Raymond Dokpesi, the Director-General of Babangida Campaign Organisation, a personna non grata in the troubled region.
advertisement
Spokesperson fr the JRC, Cynthia Whyte, in an on-line statement said Dokpesi, who owns an independent broadcasting empire, was no longer welcomed in the regin where he hails.
In the mean time, RAND is claiming that the former military ruler is the worst of all the presidential aspirants who have emerged so far and that the ruling Peoples Democratic Party (PDP) will lose the oil-producing states of the Niger Delta if the party throws up Babangida as their presidential flag-bearer.
''It is no lame threat, quote me, we will ensure that the PDP fails in the Niger Delta if Babangida emerges as their presidential candidate. There is no basis fr a self-confessed 'evil genius' to seek to lead Nigeria again'', the militant group said.
Adding, they said, ''our 100 per cent support is for President Goodluck Jonathan and we are prepared to crush anybody or group who want to stand on his way. To be forewarned is to be forearmed''.
RAND says they have cells across the oil region, and that members are mainly from the ranks of aggrieved ex-militants.