POWELL PLEADS FOR PATIENCE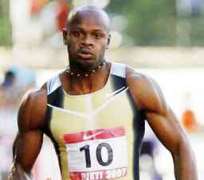 Asafa Powell
With his season cut short and sidelining him from a few key late season match-ups against fellow Samsung Diamond League Ambassadors Usain Bolt and Tyson Gay, Asafa Powell is asking his fans to be patient, and to be ready for next year when a fully fit Powell returns to the track.
'To all my fans who expected a complete season from me, with possibly no losses and a personal record, I am asking for your patience.
'Next year I hope to be back, running at my best. My main aim will be to win World championships, but either way, I am going to do my very best.
'My 2010 season is one that was cut short by injuries to my hamstrings and back muscles. I was really disappointed not to be able to finish my season the way I wanted to, and that is the way I started it, healthy and winning races. But unfortunately, like I said, injuries forced me to cut my season short.
'The two races that I lost to Usain and Tyson could have turned out differently if I were injury free and fully fit. Even though I am trying not to consider them as defeats because I wasn't able to push myself the way I wanted to, they are defeats, and the most I can do at this stage is consider what might have been, if a fully fit Asafa had stepped on the track.
'My next regret was to miss out on the Stockholm meet, where Usain, Tyson and I were expected to clash. Next year, these match ups will happen for sure because other than the World Championships, a few more Diamond League races are expected to happen with all of us lining up against each other.
'I can say for sure at this point, that my 2010 injuries are much better than when they happened. I am doing the treatments necessary because by next month when our training season starts, I hope to be ready to give 100% of my efforts.
'Occupying my time these days are my cars, getting them faster, and my house that I am working on in Kingston. Partying is obviously a big no-no now because my back is not the best now. So all my focus is on getting my house done, so I can move in soon.'