SCHOOL OWNER FLAYS PARENTS ON CHILD EDUCATION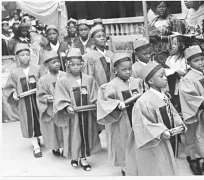 A cross-section of pupils of Sofunix International School, Lagos during the graduation and prize-giving ceremony of the school…on Tuesday.
The Chairman, Sofunix International School's Parents/Teachers' Forum, Mr. Gbenga Badejo, has expressed dismay at the lukewarm attitude of some Nigerian parents towards the education of their children at primary and secondary school levels.
Badejo who spoke on 'Collaborative efforts between The School and Parents' at the Second Graduation and Prize Giving Ceremony of the school on Tuesday, explained that many parents were not taking the academic growth of their children seriously at the foundational level.
This, he said, was because majority of parents were yet to come to terms with the fundamental role of nursery, primary and secondary school in shaping the career of young ones.
He noted that as a result of this, some undergraduates in the nation's universities lacked basic foundation for tertiary education.
'It is a sad commentary that many students that joined cults in our tertiary institutions are those whose intellectual capacity could not cope with the rigours of tertiary education. They are mostly the ones that acquired secondary school certificates from special centres and deployed the same mechanism for passing the Unified Tertiary Institutions Matriculation Examination.
'Gone were the days when a graduate of Standard Six and Secondary School could communicate effectively in English Language and solve some basic mathematical problems', he said.
According to him, many parents do not regard primary and secondary schools as incubators for tertiary institutions.
He posited that parents should monitor their children's academics, pay their tuition and provide them with teaching and learning materials.
'Parents should also visit their children's schools on a regular basis,' he said.
Badejo advised parents to consider factors such as the school's professional standard in terms of infrastructure and human capital before picking a school for their children.
'It is inconceivable that some parents prefer to spend a huge amount of money on social activities at the expense of prompt payment of school fees. Such parents are always at the mercy of special centres when it becomes obvious that their children could not cope with standard examinations,' he said.
Corroborating Badejo, the Schools' Treasurer, Mrs. Toyin Iromini, noted that at the formative stage of a child's education, parents owe it a duty to show total commitment towards the needs of the child.