EVERTON FANS WANT AIYEGBENI BACK TO FORM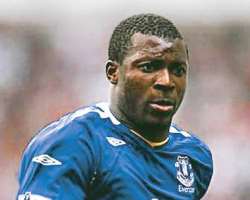 Aiyegbeni in action for Evert
Everton fans and ex-players have called on Yakubu Aiyegbeni to rediscover his goal scoring form to help the club bounce back to reckoning in the new season.
The fans posted messages on their website encouraging the Super Eagles forward to raise the standard of his game before the club lose more matches than they can afford.
A former Toffees star Ian Snodin also joined the fans in calling for the Nigerian to quickly shake off his injury and return to the team.
He told Liverpool Echo on Monday, 'Yakubu has been a big player for Everton in the past – and he can be equally as influential in the future. But he's got to get himself back into the first team quickly and start scoring goals again.
'His absence from the first team squad so far this season has been disappointing and it's no coincidence that we've struggled for goals.
'It is time for the Yak to have a little look at himself, say to himself 'let's have a good go at this' and try and repay the support he's always had from the Everton fans.
'Evertonians love their goal scorers and they have always loved the Yak ever since he arrived at Goodison Park.
'We need him back in action as soon as possible.'
Meanwhile, Everton boss David Moyes plans to play Tim Cahill as a striker for the weekend's clash with Manchester United.
The Toffees, winless after three matches, will enter the Goodison Park fixture without strikers Louis Saha and Aiyegbeni which may force Moyes to pair Cahill with Belgian midfielder Marouane Fellaini in attack.
The duo has teamed well together in the past and Moyes may look to heap the goal scoring burden on them when the Red Devils come to town.
His other option is to stick with summer signing Jermaine Beckford but he has failed to fire in the Premier League so far.