BOB MARLEY'S DAUGHTER FACES DRUG CHARGE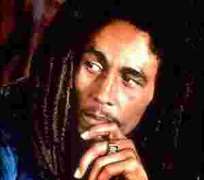 Bob Marley
The youngest child of late reggae star Bob Marley has pleaded guilty to a drug charge after police caught her growing marijuana in her Pennsylvania home, her lawyer said.
Makeda Marley pleaded guilty on Tuesday to two charges, including manufacture of a controlled substance, after police were called to her West Chester, Pennsylvania home for a dispute two years ago and discovered almost a dozen marijuana plants in the basement, her lawyer Thomas Schindler said.
Sentencing has been scheduled for October. In return for her guilty plea, prosecutors dropped a minimum one-year prison sentence that would normally be mandatory for the amount of marijuana found in Marley's home, Reuters reports.
The 29-year-old, who was born several weeks after her father died of cancer, faces a likely sentence of between probation and nine months in prison.
She told the court at a hearing in February that the proceeds of a fund granted by her father's estate had dried up and she now worked as a waitress, according to the Daily Local News of West Chester.