WHO KILLED SIR TAFAWA BALEWA?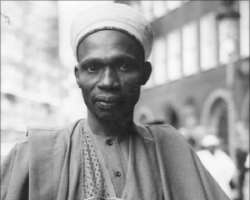 PHOTO: NIGERIA'S FORMER PRIME MINISTER, LATE SIR ABUBAKAR TAFAWA BALEWA.

This is why it is so important for us to learn about our history properly, to read as widely as possible and to do our own research before we just accept and believe whatever anyone may tell us about our past. Chief Matthew Mbu is a man that I have tremendous respect and affection for and he is undoubtedly one of our most eminent elder statesmen and nationalists. He is also a father to me so I do find it difficult to say what I am about to say. Yet the truth must be told no matter what and no matter whose ox is gored. And the truth is that the elder statesman's assertion that Sir Tafawa Balewa, the former Prime Minister of Nigeria, was not murdered by soldiers and that he in fact died of asthma is a sordid and shameful attempt at distorting history. It is nothing but historical revisionism.
It is simply not true to say that Ifejuana did not kill Tafawa Balewa and that the man just died of an asthma attack after being abducted. The man was shot and his body was left to decompose. It is not true to say that there was no autopsy report. There was. After the body was found it was taken to LUTH and an autopsy was conducted by the head of the pathology department in that hospital. The findings were that he had been shot to death. Dr. Moses Majekodunmi, who was the Minister of Health at the time, can confirm this. After murdering Balewa in cold blood on the Abeokuta road Ifejuana fled to Enugu because by that time it was clear that the coup had failed. When he got to Enugu he met with Christopher Okigbo who he was very friendly with and Okigbo smuggled him out of the country from where he fled to Ghana. He later came back to Biafra and both he and Okigbo fought on the Biafran side during the war. Okigbo was killed at the war front and Ifejuana was executed by Ojukwu for plotting a coup against him too. Mbu is basing his assertion on reports that he was given by Christopher Okigbo. One wonders what he expected Okigbo to say other than that because not only was Ifejuana his best friend but he was also in the know and part of the conspiracy during that first coup. Of course he would not want to admit to anyone that Balewa was murdered by his best friend and co-conspirator.
These men were cold blooded murderers and cowards and we must not let Mbu or anyone else attempt to revise history before our very eyes. Ifejuana not only shot Balewa after allowing him to pray but he also mutilated his body and left it to rot in the bush by the roadside. We owe it to Balewa, his family, all the others that were killed, abducted and brutalized on the night of Jan. 15th 1966 by Major Nzeogwu and his fellow mutineers and murderers that night, the Nigerian people, our children and posterity to let the truth be known. I also question the motives of Chief Mbu for telling this strange and ridiculous story which is nothing but a lie 44 years after the event. The next thing that people like that will tell us is that Sir Ahmadu Bello, Chief S.L. Akintola, Brigadier Maimalari, Brigadier Ademulegun and his 8 month pregnant wife, Col. Largema, Col. Sodeinde, Chief Festus Okotie-Eboh, Col. Yakubu Pam and all the others that were cut short that night died of the flu. This is so unfair and so disrespectful to the dead and their families.
My own father was almost killed that night too and he was forced to witness the brutal murder of his friend S.L. Akintola, the former Premier of the west, by this same gang of wicked and heartless thugs. I remember the events of that time very well and I personally witnessed the events of what happened in our house when the soldiers came for my father too and took him away. If no one else will tell the truth and set the record straight about these events, I certainly will. It was what those boys did that night that led to the northern officers counter/revenge coup of July 1966 in which General Ironsi, Colonel Fajuyi and 300 Igbo army officers were killed and it also led to the terrible pogroms of Igbo civilians in the north which in turn led to the civil war.
These are terrible events from a terrible time and none of like to talk about it because it is painful and inflammatory. But the fact that we don't talk about it does not mean that we should sit back and allow someone to revise history. We must set the record straight, we must never allow our people to forget what happened and we must always be courageous enough to come out and tell the truth. This is the only way that we can ensure that this sort of thing never happens again.
If anyone has any doubts about what I have said here I urge them to please go and ask some of our most eminent elder statesmen who were very active at the time, who were deeply involved in governance then and who are still alive today like President Shehu Shagari, Dr. Moses Majekodunmi (the former Minister of Health in the first republic who was a personal friend of Balewa's and who was very close to him), Chief Richard Akinjide (the former Minister of Education in the first republic), General T.Y. Danjuma, General Yakubu Gowon, President Olusegun Obasanjo, Alhaji Inua Wada (the former Minister of Defence in the first republic, Alhaji Maitama Sule and so many others. They can also read an excellent book which is Balewa's biography titled "A Right Honorable Gentleman" and which was written by a British historian and colonial officer at the time by the name of Trevor West.
For further confirmation they can also reach three of the most respected, objective, authoritative Nigerian historians and authors of this generation who are all, in my view, of the highest standard and who are all extremely knowledgeable about the events of those days and our history generally. They are Mr. Max Siollun, Mr. Ayo Akinfe (both of whom are based in and write from London) and Mr. Akin Ajose-Adeogun who is based in Lagos.
There was also a formal investigation into the matter which was conducted by the Special Branch Department of the British police and they produced a report which confirmed the fact that Balewa had been shot by Ifejuana. Quite apart from that Alhaji Babankowa, a former Commissioner of Police, who was a Deputy Inspector at that time, in his reaction to Mbu's assertion, told the Daily Trust Newspaper on Monday, September 6th, 2010, that he discovered the corpse of the Prime Minister and that of Festus Okotie-Eboh (the former Minister of Finance), Col. Kur Mohammed and Col. Abogu in a bush on the Abeokuta road. He said that he and his men "found the dead body of the Prime Minister and the other three decomposing and with gunshot wounds". He said that he then left his men there to guard the bodies and rushed to Ikeja provincial police station to report. He then briefed the Inspector General of Police, the late Alhaji Kam Salem, about his findings.
His interview in that newspaper makes interesting reading as he went on to confirm the fact that he led a delegation back to the bush where the bodies were which comprised of many top government officials and dignitaries including Alhaji Maitama Sule who is still alive today. He confirmed the fact that all those dignitaries also saw the bullet wounds in Balewa's body and in the body of all the others. For further corroboration of Babankowa's account those that are interested can reach Alhaji M.D. Yusuf (the former Inspector General of Police) and Alhaji Umaru Shinkafi (the former head of the defunct Nigerian Security Organization) who were both officers in the Special Branch of the Nigerian police at the time and who are fully aware of and are conversant with the details of the British Special Branch report.
I should also add that Mbu was the Foreign Minister for Biafra. So really what we are witnessing here is the questionable testimony of two Biafran sympathisers, Christopher Okigbo and Chief Mbu, who are trying to clean up the image of a cold blooded and ruthless murderer by the name of Major Emmanuel Ifejuana who was one of the most prominent officers of the Biafran army. The truth is that Ifejuana's hands were dripping with Nigerian blood before he died and for anyone to now try to absolve him of the murder of Tafawa Balewa or anyone else that he killed is sad and unfortunate. Interestingly enough just as he betrayed his leaders in Nigeria and killed some of them, the same man betrayed the leader of Biafra, Col. Odumegwu Ojukwu, too by planning a coup against him. He was caught and he was executed by firing squad. Treachery and homicidal tendencies were both in his blood.
Chief Femi Fani-Kayode was the spokesperson to President Olusegun Obasanjo; he subsequently became Minister of Tourism & Culture & later served as Aviation Minister for Federal Republic of Nigeria. He is currently vying for the position of Governor in Osun State (South-West, Nigeria).
Disclaimer:

"The views/contents expressed in this article are the sole responsibility of the author(s) and do not necessarily reflect those of The Nigerian Voice. The Nigerian Voice will not be responsible or liable for any inaccurate or incorrect statements contained in this article."
Articles by thewillnigeria.com