Ms. Jibowu: Judges, Doctors, Others, Condemn Racism At KC London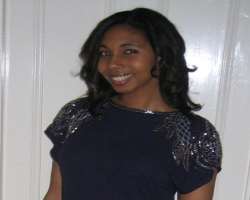 PHOTO: MS. VIRGINIA JIBOWU HAS ALLEGED ABUSE AND DISCRIMINATION AT KING'S COLLEGE LONDON.

ABUJA, Sept 07, (THEWILL) - Over 350 signatures have so far been collected in a petition by Nigeria's Virginia Jibowu against the King's College London (KCL) over the school authority's ignoble role in exhibiting racist tendencies against black students who enrolled for the Extended Medical Degree Programme (EMDP). About five hundred signatures are required to effectively push the petition to the office of the British Prime Minister, David Cameron at No. 10, Downing Street, London.
Among the over 350 signatories to the petition are Judges, Doctors, Lawyers, Engineers, Artisans and journalists who have signified interest to support in any way possible the move to bring King's College London to book for their condemnable actions against the petitioner, Ms. Virginia Jibowu.
Dr. Olukayode Giwa who spoke to THEWILL in Abuja said, "The action of King's College London is distasteful, awkward, unwarranted and out of tune with the present international realities in view of the inhuman treatment meted to Ms. Jibowu."
Dr. Giwa further revealed that Virginia's maternal grandmother, Dr. (Chief) Deborah Opeyemi Jibowu, a renowned educationist, social welfare expert and a Member of the British Empire since 1962, who won many accolades both in Britain and here in Nigeria would not be happy anywhere she is by now because of the unwholesome treatment meted to her grand-daughter.
He called on well meaning individuals and corporate bodies to condemn the despicable act and join the fight by signing the petition as part of efforts to ginger the British Prime Minister to act quickly.
Ms Jibowu is asking the British Prime Minister to order an independent investigation into the conduct and marking of her final year MBBS examination papers apart from setting up a commission of public enquiry into the abuse of students on the Extended Medical Degree Programme (EMDP) and also to order a police investigation into the racial harassment and injury sustained by her on October, 20, 2008 while on clinical attachment.
THEWILL recalls that in 2001, King's College London introduced a 6-year experimental 'Extended Medical Degree Programme' (EMDP) which targeted London boroughs with a large black ethnic minority population. It was advertised as being designed to bring in more students from 'socially deprived backgrounds' who would not have achieved the necessary A-Level grades to gain a place into the MBBS 5-year course.
Although Ms. Jibowu did attain the necessary A-Level grades for a place on the MBBS 5-year course, she was segregated onto the EMDP 6-year course which she had not applied for.
Unknown to Ms. Jibowu at the time, students on the EMDP programme were brought in to be used by the university as 'guinea pigs' in unethical medical and social research. This included IQ research, psychological research, research by the Institute of Psychiatry, HIV/AIDS research and sociological research. Students on the MBBS 5 year course were not required to participate in this research.
As the EMDP students were compelled to wear badges showing that they were on the EMDP course, they were treated with contempt and hostility by staff and students of the main course. When Ms Jibowu complained to management about the unfairness and the segregated nature of the programme, she was bullied and victimized by staff who were implementing the programme. She was also targeted and racially harassed by a group of medical students associated with and related to senior management.
To sign on to the petition, log on to http://www.gopetition.com/petition/38617.html