Ogun Crisis: ANPP Guber Candidate Indicts Governor Daniel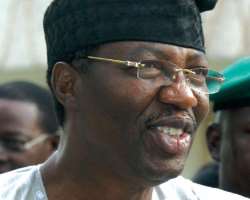 PHOTO: OGUN STATE GOVERNOR, OTUNBA GBENGA DANIEL.

ABUJA, Sept 07, (THEWILL) - The Ogun State gubernatorial candidate of the All Nigeria Peoples Party, ANPP in the 2007 polls, Senator Ibikunle Amosun, has described as despicable attempts by Ogun State Governor, Otunba Gbenga Daniel, to arm-twist the people of the state to secure an obnoxious N100bn bond.
Amosun, according to a statement by his Media Assistant, Seyi Enitan, expressed disgust at the level of desperation the governor had sunk into in an attempt to secure the unpopular bond.
Nine lawmakers were said to have sneaked into the state Assembly complex at about 6.30a.m on Monday, broke the back door of the Chamber and met hurriedly, announcing the purported removal of Egbetokun.
They also approved the N100 billion as well as approved the supplementary budget the governor sent to the House.
But Enitan who quoted Amosun as describing the development as the very height of desperation called on all well meaning people of the state to ensure that the move by the governor to plunge the state into financial bondage did not succeed.
He wondered why the governor is scared of facing the people of the state to discuss the reason(s) why he needed the bond just some few months to the end of his eight-year tenure.
The politician who represented Ogun Central in 2003-2007 at the upper chambers of the National Assembly commended the steadfastness of the Tunji Egbetokun led house in resisting the governor's obnoxious demand. Amosun, who has since moved to the Action Congress of Nigeria (ACN), also advised financial institutions in the country to be wary of granting Governor Daniel any financial lifeline just close to his exit from office.