BARRISTER ALIVE IN GERMAN HOSPITAL!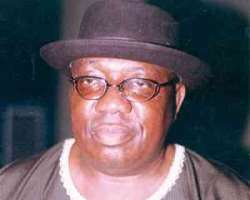 Mr Fuji, Alhaji Sikiru Ainde Barrister lives and not dead as rumoured. He is currently recuperating at the University Hospital, Cologne, Germany where he was flown to, on August 21.
His son, Olashile a student in one of the Germany Universities who confirmed to this writer in a telephone interview
said,' My daddy is alive and okay. He would have love to chat with you right now but he is being attended to by a doctor. Perhaps, if you could call back, you may be lucky to speak with him.'
Earlier, Alhaji Lati Alagbada, the Chief executive officer of Lati Alagbada records, on whose label the fuji maestro is signed on also confirmed speaking with the fuji musician said 'I have just finished chatting with Alhaji. He sang and praised Allah for keeping him alive.
And to the glory of Allah, Alhaji also confirmed that he is returning before the end of this month. On his arrival, he promised to record a new album for his fans which would be released before the end of the year.