Jonathan splits Niger Delta * As Militants declare Dokpesi Persona Non Grata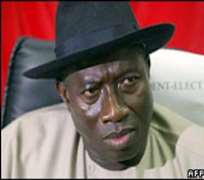 Goodluck Jonathan
THE seeming desperate presidential ambition of President Goodluck Jonathan, in the coming 2011 elections, has sharply divided the Niger Delta, a volatile oil and gas region that was a hot bed of low intensity war since 2006.
Insurgent groups and Ijaw leaders who are pushing for their kinsman, Jonathan, to continue in office, are increasingly becoming intolerant to opposing views and campaigns in the oil and gas region.
Already, the Joint Revolutionary Council (JRC), an insurgent network, appears to have taken their pro-Jonathan stance to the extreme by declaring Chief Raymond Dokpesi, the Director-General of the Ibrahim Babangida Campaign Organisation, and promoter of Daar Communications,m owners of a vast television and radio network, a persona non grata in the Niger Delta.
But, in a swift reaction, the Niger Delta Patriotic Front (NDPF), a radical political group, has warned that they will resort to any means necessary to resist what they are seeing as ''creeping farcism'' in the oil region.
Spokesperson for the group, Mr. Ben Didi, told AkanimoReports on telephone on Thursday, ''the Niger Delta is not an exclusive region of President Jonathan. The action of the JRC is condemnable and speaks volume about the seeming desperation in the Jonathan camp''.
Continuing, he said, ''if all geo-political zones in Nigeria are to adopt that retrogressive position, Jonathan will go down in history as a president who presided over the liquidation of the country. We will resist such a political development by any means necessary''.
The JRC which comprises of alliance units of the Movement for the Emancipation of the Niger Delta (MEND), active combat units of the Niger Delta Peoples Volunteer Force (NDPVF) and the Martyrs Brigade, in an on-line statement to AkanimoReports by their Spokesperson, Cynthia Whyte, on Thursday said, ''we hereby declare Chief Raymond Aliero Dokpesi persona non grata in the Niger Delta''.
According to them, ''Dokpesi is a blackleg in the struggle for the liberation of the Niger Delta region and the South South zone of the Nigerian State. Any Niger Deltan who will or can trade the destiny of tens of millions of Niger Delta for filthy lucre is not worthy of existence. Should not even live amongst us''.
They are demanding that all Southern and Niger Delta interests should immediately cease every relationship with Raymond Dokpesi and all of his business interests.
Adding, the insurgents said, ''government institutions and parastatals, youth groups and all others are hereby warned from participating in programmes runs by Raymond Dokpesi and his interests such as Raypower radio, AIT Television etc. Any Niger Delta interest that henceforth participates in AIT programmes such as Kaakaki etc or advertises on AIT will be summarily punished''.
''In the next few weeks'', they went on, ''we will begin our course. Any advertisement by any Niger Delta based groups or interests on AIT will be cursed, condemned and punished. However, let us commend all those who have chosen to remain resolute and fight the Jonathan cause even in the face of grim persecution and great financial and social temptations''.
The group however, commended the likes of Chief Dumo Lulu Briggs, Professor Kimse Okoko, Chief Edwin Clark and all the governors of the various ''Bantustan states across the Nigerian State even though we are aware that certain governors in the Niger Delta secretly do not wish Jonathan well. Their time will come''.