Kel Struggles As She Is Still Without A Record Deal.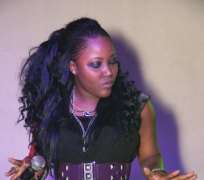 Kel Ohia, Female rap artiste who broke into the scene with a 'body to die for' in the video for 'Waa wa alright' is still without a record deal. The femcee parted ways with Capital Hill led by Video director Clarence Peters and Tha Suspect following reports of the flop of her debut album – The Investment and eventual breakdown in the relationship with the duo and rumours of she owing the label over 10 million naira which her manager has denied. She moved from Testify Music led, Clarence Peters' Capital hill to no label.
Capital Hill/ Dreams which now parades Illbliss, Tha Suspect and Clarence kicked the female rap artiste, Kel off the set of Jesse jagz's new video for 'Jago' which was directed by Clarence Peters and then released the 'dem don dey move' video without her verse – her verse was taken off. She was also rumoured to be pregnant for Don Jazzy when she began battling with her weight problem.
Kel, who recently was said to have signed to Chocolate City, the label led by Audu maikori is said to still be unsigned, a source informs and industry insiders wonder how her manager combines managing over five artistes including Banky W, SKales and Wizkid. Is Miss Kelechi Ohia's rap career done?