Austrian kidnap victim Natascha Kampusch releases book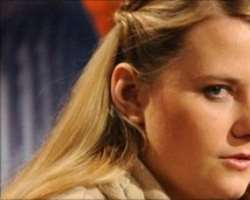 Ms Kampusch was kept in a basement less than 10 miles from her Vienna home
Natascha Kampusch, the Austrian who was kidnapped at the age of 10 and held in a cellar for more than eight years, has released her autobiography.
The 22-year-old's account describes how she was beaten, starved and abused during her incarceration by her captor, whom she describes as "sick".
Ms Kampusch's kidnapper, Wolfgang Priklopil, killed himself after she escaped in August 2006.
The English translation of her book will be released on 13 September.
Ms Kampusch was kidnapped on her way to school, aged 10, and locked in a windowless cell in the suburb of the capital, Vienna, less than 16km (10 miles) from her home.
In her book, titled 3,096 Days, she says was subjected to physical and mental abuse on a regular basis by a man who "wanted to have someone for who he was the most important being in the whole world".
"He seemed not to know any other way of doing this but by kidnapping a shy 10-year-old girl," Ms Kampusch writes.
She says Priklopil used to routinely shout through an intercom system to "obey" him and forced her to clean his house half naked, calling her his "slave".
She was starved and at times beaten so badly she could not lie on her back.
Ms Kampusch also says Priklopil subjected her to some minor sexual assaults, tying her to him and forcing her to share his bed, but she says that it was less about sex and more that he wanted something to cuddle.
Priklopil also shaved her head and burnt her hair, she says, out of fear that police would find DNA evidence of her.
'Bedtime stories'
Ms Kampusch says she attempted to use "childhood instincts" to cope, such as asking her captor to read bedtime stories to her.
"It was a desperate attempt to create a small refuge in a hopeless situation," Ms Kampusch wrote.
"When the kidnapper came back to the cell I asked him to stay with me, put me to bed properly and read me a bedtime story.
The book is based on notes made by Ms Kampusch during her imprisonment

"I even asked him for a good-night kiss, like my mother would give me... anything to preserve the illusion of normality."

Ms Kampusch says she tried to kill herself several times before she managed to escape in 2006 when she was cleaning Priklopil's car and he was distracted by a phone call.

"I was alone. For the first time since the beginning of my imprisonment the kidnapper had taken his eyes off me," she wrote of her bid for freedom.

"Run, run, damn it, run!" she told herself.
The book, which is being launched in Vienna, is based on notes made by Ms Kampusch during her captivity.

A film based on her experience is due for release in 2012.