Jos Crisis: Lar Report Indicts Jonah Jang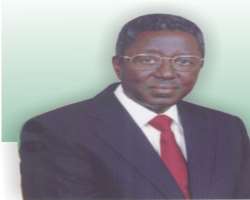 PHOTO: PLATEAU STATE GOVERNOR JONAH DAVID JANG.

JOS, Sept 05, (THEWILL) - The report on the renewed sectarian crisis which engulfed Jos and its environs in Plateau State early this year has cited ethnic cleavages pointing accusing fingers at the Jonah Jang-led Plateau State Government, THEWILL findings has revealed.
A high-powered Presidential Advisory Committee on the crisis headed by former Plateau State Governor, Solomon Lar recently recommended to the Federal Government the setting up of a Truth Commission, to end the indigene-settler brouhaha as part of efforts to end the ethno-religious commotion in Jos.
A member of the Presidential Advisory Committee (PAC) who disclosed the development to THEWILL in Jos under conditions of anonymity said a huge part of the blame rests on the door of the Governor who has continuously fanned the embers of ethnicity and carrying it too far.
"I want to make it abundantly clear without pre-empting the submission of the report to Mr. President that Jang is our problem," the source said.
THEWILL source further revealed even as contents of the report have not been made public, that the recommendations were divided into political, religious, ethnic and socio-economic aspects, adding that religion was not the major issue behind the crisis in Jos but that it was being exploited to win the sympathy of people.
THEWILL recalls that Chief Solomon Lar who led the committee to present the report to Mr. President recently urged for the setting up of a Truth and Reconciliation Committee to re-establish trust among the diverse ethnic and religious groups in Jos North, and also suggested the re-planning of Jos in such a way as to make every part of the town, especially the existing slums, conveniently habitable by providing social amenities.
"Where some houses will have to be demolished to provide access roads as a result of the re-planning of the town, the committee recommends that government goes into consultation with affected persons, who must be properly relocated to areas where all basic amenities are also provided. The exercise should be done without intimidation or bias against any religion or tribe," our source said.
The Lar Committee also recommended the payment of compensation to victims of the crisis, and prayed the Federal Government to play a major part.
The Federal Government and the National Assembly was called upon by the panel to define the concept of indigene-settler and the rights of every Nigerian wherever they live.
This is just as the panel canvassed that the authorities in Jos North be made to return to status quo as obtained prior to the start of hostilities in 2001 when the council issued indigene certificates to the Hausa people, the denial of which heightened tension between the Hausa- Fulani and the indigenes.