OUR WORRIES OVER INEC'S DATA MACHINES — BUHARI'S AIDE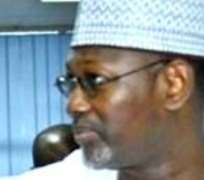 Speaking to Daily Trust in Abuja yesterday, Engr. Buba Galadima, a chieftain of Buhari's Congress for Progressive Change (CPC) said if INEC wants to conduct a free and fair election in 2011, it must first ensure that the registration of voters must be done biometrically by using Data Capturing Machines with special features to determine its location and configured to operate between two exact times within which accreditation of voters should be carried out on the day of voting.
According to him, this would help stop the snatching of ballot boxes to other locations to stuff them and prevent multiple voting because it is programmed to stop working after the fixed hours within which accreditation is expected to finish.
Secondly, he said, INEC should go back to the National Assembly and seek their consent to enable him conduct the entire elections in one day since he has the technological device to assist him. He said conducting the elections in a single day will reduce tendencies of manipulations in between staggered elections.
'If he (Jega) needs details we can give him such details so that he sits down to organise the processes of the election in a manner that he can never be beaten by those in authority,' Galdime said.
The CPC chieftain claimed that Professor Jega on assumption of duty inherited a proposal made to the Professor Maurice Iwu led commission and acted on it without taking a second look.
'The first mistake Jega made was to accept to inherit submissions that were made to Iwu by the government, by those operators of the new Data Capturing Machines. He should have cancelled those submissions and call for new tender,' he said.
When contacted INEC's Chief Press Secretary Kayode Idowu said there is no cause for alarm as the commission is focussed on ensuring free and fair election. He also denied that Jega inherited any plan from Iwu, pointing out that the former INEC boss did not have a plan to do fresh voter registration  but to do just an update.
'The commission under the present chairman came up with its own idea and we have some specifications to be used in configuring the data capture machines,' the spokesman said.
However, Galadima, when reminded that INEC had no time to go all over searching for alternative DCMs, Galadima said: 'There is time because all these 120 000 machines can be manufactured within two months and they can be distributed within 15 days. The registration can be done within two weeks and by the end of December, you could have put everything in place to conduct a free and fair election in March or April. And there would have been no need for anyone to go to court because the elections would have been transparent.'
Engr. Galadima said apart from a GPS that would capture the location of the DCM at every point, it should be configured 'In such a way that it will start operation between two exact times, let's say between 8:00 am to 2:00 pm or to 4:00pm. And that when accrediting the machine can accept finger prints of those that have been registered, and that on a swipe of the voters' register, all details of such person should be shown on a screen, and that whenever somebody is accredited, the machine will record the time and send the signal to the server [in Abuja] to record when the person voted and the number of people who voted with timings attached to them.'
On the need to conduct the elections on a single day, Engr. Galadima said: 'During the Shagari time, we conducted three elections in a day using manual voters' register. Therefore nothing can stop us from using technology and the Data Capturing Machine to do five elections in one day', saying it was necessary to eliminate the manoeuvre that takes place between staggered elections by those in authority.'
He said the recent by-elections in Bauchi and Gombe states had shown that even the new INEC under Jega cannot conduct a free and fairs election unless the measures above are adopted.
'We would want to admit that preparations for the election including the distribution of materials went on well and to the satisfaction of all political parties. And in fact half way into the conduct of the election itself there was no acrimony; there was no violence; there was no intimidation, and there wasn't manipulation. But when exit polls started coming out, we discovered that those people in authority in those states unleashed mayhem on ordinary INEC officials; arm twisted them, snatched ballot boxes, did voting and wrote results which were not in consonance with the actual voting that took place,' her said.
INEC spokesman Kayode Idowu said there is plan by the commission to make sure that the machines are trackable. 'There are many security measures that would be taken in order to protect the machines. But I cannot tell you those security measures  now,' he said.
On the issue of voters accreditation with the DDC machines, Idowu said: 'I cannot specifically say that now but I know that the commission has plan to make sure that the elections are free and fair as possible within the time left for us. We welcome all helpful suggestions and they are all taken into account. We will use biometric data of individuals to register them and as you know another person cannot use your biometric data.'