OLOFINJANA TO FACE FORMER CLUB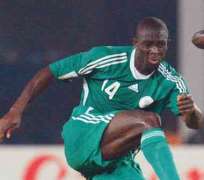 Seyi Olofinjana
Cardiff new signing Seyi Olofinjana is set to face his former club Hull City, after a clause restraining him from the clash was withdrawn.
Hull's move for Anthony Gerrard on Tuesday opened the door for defensive midfield player Olofinjana to play against the Humberside club.
Hull had insisted that Olofinjana, who has played a major role in Cardiff's unbeaten start to the nPower Championship season, could not play in either fixture between the two clubs.
But when Hull moved in for Gerrard, manager Dave Jones agreed as long as the Olofinjana clause was withdrawn.
Hull agreed and Olofinjana will again throw his protective screen in front of the Bluebirds' back four in their next League match.
Both the Nigerian international and Gerrard can now feature in the Bluebirds versus Hull City league fixture at Cardiff City Stadium next week Saturday. They can also play when the clubs meet at the KC Stadium in February.