D'BANJ'S KOKO MOBILE SET TO HIT THE MARKET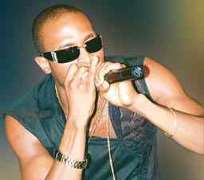 D'banj
Any moment from now, boisterous entertainer and budding businessman, Dapo Oyebanjo or D'banj as fans and friends, cynics and critics call him, would open another chapter in his episodic career. In the historic month of October, the 30-year-old singer will release his range of Koko Mobile handsets into the Nigerian market with accustomed panache and razzmatazz.
The Koko Mobile phones, E-Punch gathered, would come in three colours; black, silver and pink. Predictably, the phones come preloaded with D'banj's songs and images.
Sources close to D'banj averred that this is one of the reasons he has hardly been present in the country especially in the last couple of months. A member of his posse says, 'He has been shuttling between Nigeria and abroad, meeting with the representatives of the manufacturing company because he wants to get it right. He does not want to go into a business that would not stand the test of time.'
Though there is no official comment from Mo'Hits where D'banj calls home, the label's manager, Sunday Are, advises that the public should wait for the grand media unveil proper being planned for later this month to get all the details.
D'banj has come a long way from the harmonica-playing London returnee that stormed the music scene with his hit single, Tongolo, and the hitherto popular refrain, No Long Thing in 2004.
Versed in the art of sloganeering, and backed by one of the most talented music producers around, Don Jazzy, not forgetting his spirited stagecraft, it did not take long before the young man wormed his way into many hearts, preaching his Koko gospel and winning converts from Nigeria to Africa and the world.
Six years down the line, D'banj has become a substantive music star with all the bona fides, living the roller coaster life that comes with it but sensible enough to know that brands have finite lifespan especially in Nigeria where the people are too eager to move on to the next reigning brand.
Thus, the Globacom ambassador has been aggressive in projecting and sustaining his brand, and adapting to global trends where international music stars are no longer resting on record sales and endorsements to make money, but also sweating it out in the boardroom, closing mega deals and keeping a feverish tab on the capital market like it was the music chart. The Koko mobile phones are the latest in D'banj's evolving conglomerate which already has Koko Water and Koko Lounge in Lagos. Koko Garri will join in due course.