WHY ONI IS AFRAID OF EKITI INTELLECTUALS – ACN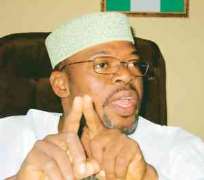 Governor Segun Oni
The Action Congress of Nigeria has said that Governor Segun Oni of Ekiti State is afraid of intellectuals in the state because he knows that they do not tolerate mediocrity.
The Director of Communications of the ACN in the state, Mr. Yemi Adaramodu, said this in a statement made available to journalists in Ado-Ekiti on Thursday.
The ACN chieftain who reacted to the comment made by Oni who delivered a lecture of the Department of Archaeology and Anthropology at the University of Ibadan on Monday said that it was surprising that Oni who teamed up with intellectuals to remove a former governor of the state could start casting aspersion on the same set of people.
Oni had blamed those he called intellectuals in the state as the ones behind the image problem of his administration. He said they were bent on pulling him down because they were not in power.
But the ACN said that it was for the governor to have chosen an 'intellectual habitat' to vent his anger on the intellectuals.
The statement from the opposition party read, 'The PDP governor once aligned with intellectuals to pursue a former governor and since he knows the power of intellectualism, he is afraid his time is up.'