Group Wants Jega To Beat June 12 Transparency Record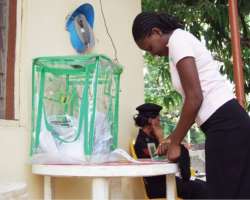 PHOTO: A FEMALE VOTER VOTES AT A POLLING STATION DURING AN ELECTION.
ABUJA, SEPT 02, (THEWILL) - As the tempo of political activities towards 2011 heightens, the Chairman of the Independent National Electoral Commission (INEC), Prof. Attahiru Jega has been challenged to be alert, focused and transparent in his assignment at INEC to enable him conduct a credible election so as to surpass the good record created by Professor Humphrey Nwosu during June 12, 1993 elections.
A group under the aegis of Voice of Niger Delta (VOND) led by its National President, Mr. Ibimie Odimabo said today in Abuja that Jega has no reason not to succeed as anything short of credible elections would be resisted vehemently by VOND and other Nigerians.

Odimabo said his organization has put in place programmes to ensure credible polls next year.

"VOND is asking Prof. Jega to conduct a free and fair election for Nigerians that would be compared with the one conducted by Prof. Humphrey Nwosu in June 12, 1993. You know that election was worn by the late MKO Abiola and till date, is still the best ever conducted, so anything short of that will not be accepted by Nigerians and our NGO."
He said with Professor Jega's pedigree as a lecturer and a successful trade unionist, VOND is optimistic that Nigeria will experience a dawn of a new era and called on all presidential aspirants and their parties to synergize with President Goodluck Jonathan to make the conduct of the 2011 elections not only free but credible and accepted globally.
"Our advise in VOND to this prominent leaders is that they should close ranks to make sure that their followers and other selfish Nigerians would not encourage them to cause problems for the nation as we approach the election year.

"At the appropriate time, VOND would carry out a special political audit where it will screen all the presidential aspirants and make sure only a credible candidate will be recommended to the public before the campaigns, noting that in doing just that, religion, ethnicity, tribe and gender will not be taken into account," he said.