COCOA FARMERS, PROCESSORS URGED TO EMBRACE MODERN TECHNOLOGY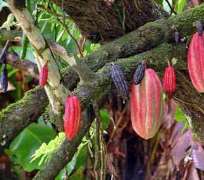 Cocoa Cultivation
The Ogun State Commissioner for Agriculture, Mr. Tunji Akinosi, has called on cocoa farmers and producers in Nigeria to embrace modern system of production and processing in order to ensure the enhancement of the quality of cocoa produced in the country.
Akinosi, who spoke at the inaugural meeting of the Conference of Directors of Produce Services of the 14 cocoa producing states in the country in Abeokuta on Wednesday, said the quality of cocoa in the country had degenerated to the level where the commodity was being bought 'at a discount' at the international market.
Delivering the keynote address, where nine Directors of Produce in the 14 states were in attendance, the commissioner reasoned that the quality of the cocoa produced in the country could only be improved upon if the stakeholders would resolve to collaborate in improving the lot of the cocoa business.
He said, 'Cocoa farmers, being the pivot for growth in cocoa industry, must be exposed to modern ways of production and processing, hence, the roles expected of Directors of Produce Services in this area cannot be over-emphasised. I, therefore, implore you individually and collectively to formulate effective working plan to lift the cocoa industry from its present poor state through effective and efficient performance of your statutory roles.
He said, 'Gone were the days when Nigerian cocoa were purchased at a premium.
'But now that they are being bought at a discount, we need to double our effort on quality improvement towards profitable, effective and efficient marketing of the commodity.'
Akinosi noted that the need to redress the neglect which cocoa industry had suffered in the scheme of things informed the decision of the Federal Government to set up the Cocoa Development Committee at the national, state and local government levels.
He explained that the Ogun State Government, having realised the problems in the subsector, had decided to sponsor the maiden conference of the directors to address the various problems associated with the production of quality cocoa for export.
In a communiqué after the conference, the directors resolved that the State Produce Inspection Services must be allowed unrestricted access to processing factories in order to enforce sanity in cocoa processing.