… UNVEILS BLUEPRINT FOR FINANCIAL REPORTING STANDARDS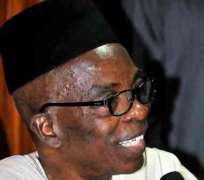 The Federal Government on Thursday unveiled a blueprint that would enable companies operating in the country to report their financial statements in line with international accounting standards.
The blueprint on International Financial Reporting Standards, which was unveiled in Abuja by the Minister of Commerce and Industry, Senator Jubril Martins-Kuye, will be implemented in three phases.
The first phase, according to the minister, will make it mandatory for all publicly listed entities and significant Public Interest Entities to prepare their financial statements using applicable IFRS from January 1, 2012.
The minister said that the choice of January 1, 2012 was anchored on the need to effectively transit to IFRS over a three-year period.
He said that any entity that began the preparation for transiting would need to convert its closing balances as at December 2010, to IFRS-based figures. The figures, he noted, would provide the opening balances for January 1, 2012, which is the first year for IFRS full financial statements.
For the second phase, the minister hinted that all other public entities would be expected to 'mandatorily adopt IFRS for statutory purposes by January 1, 2013.'
He added that small and medium enterprises would be asked to transit under the third phase from January 2014.
Speaking on the convergence of the IFRS framework in the country, Martins-Kuye said, 'In recent times, a number of Nigerian companies have raised capital from the international stock markets, others have established significant presence in other jurisdictions.
'Therefore, for a better understanding and appreciation of the risks and, consequently, making decisions about the flow of economic capital, it makes sense that financial statements prepared in Nigeria use global financial reporting benchmarks.'
He added, 'With these facts, the Federal Executive Council accepted the recommendation of the committee on the roadmap for the adoption of IFRS in Nigeria that will be in the interest of the Nigerian economy for reporting entities in Nigeria to adopt globally accepted, high quality accounting standards by following a phased transition, effective January 1, 2012.'
Also speaking at the event, the Chairman, Governing Council of the Nigerian Accounting Standards Board, Mr. Michael Popoola, said that the move was part of the board's efforts aimed at achieving credibility and reliability of financial reporting in the country.
This, he noted, would sustain and promote investors' confidence in published financial reports.