BARRISTER NOT DEAD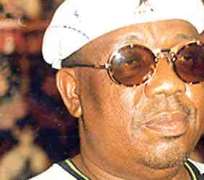 SIKIRU AYINDE
Music lovers had cause to fret again early in the week when rumour made the rounds that Fuji music maestro, Ayinde Barrister, might have died after a prolonged battle with back pains and excess fat in the waist line. Where the rumour emanated from, no one could say, but it was widespread. Phone lines jammed as enquiries poured in from all parts of the world, all wanting to confirm the veracity or otherwise of the news.
E-Punch later got across to a relative of the singer who confirmed to us that Barry Wonder, as he is popularly called, is in Germany where he is recuperating after his latest operation. 'Nothing is wrong with him. He is not dead as being speculated. He was operated on again on the spinal cord so his physiotherapists recommended we brought him to a hospital here (Germany) for further attention and convalescence,' the relative told us on phone. He admitted however that Barrister's health, especially his infamous weight problems, is a cause of worry for the entire family.
Before he turned 60 in 2008, Barrister, rotund and overweight, was no longer the energetic performer that revolutionised the Fuji music genre, having taken it away from just being the Muslims' pre-dawn song, planting it firmly in the mainstream, and cultivating an incomparable and unprecedented followership that keeps growing by the years, thanks to his many progenies.
He resorted to sitting whilst performing, having collapsed on a number of occasions on stage. Since then, he had been checking in and out of hospitals in Nigeria and abroad, being at the mercy of surgeons who are not sparing the knives to free him of a heart-related ailment purportedly aggravated by his weight. He has also been to India and back. For now, he remains in Germany.