UME-EZEOKE STEPS DOWN AS ANPP CHAIRMAN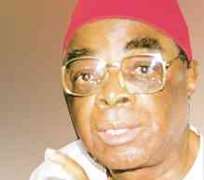 Edwin Ume-Ezeoke
The Chairman of the All Nigerian Peoples Party, Chief Edwin Ume-Ezeoke, on Thursday handed over to a seven-man Transition Management Committee, which would run the party until its convention scheduled for September 16-18.
The tenure of the controversial chairman is expected to expire on Monday. This was one of the decisions taken at the party's National Executive Committee meeting, which held in Abuja.
The party also said that its presidential candidate for the 2011 election would emerge through consensus, while others would be decided through direct primaries.
The party also reappointed Yobe State Governor Ibrahim Geidam as the chairman of the Convention Planning Committee while a former Minister of Interior, Alhaji Abdullaraman Adamu, would head the party's TMC.
Geidam was the chairman of the former convention committee, which was dissolved at the NEC meeting. Other members of the convention committee are Chief Razak Folarunso(Secretary), who replaced Livinus Nwambe.
The erstwhile secretary has pitched his tent with an ANPP faction, which sacked Ume-Ezeoke's led National Working Committee last Friday. Four motions were said considered at the meeting, which included the setting up of a caretaker committee to act for the NWC, following the expiration of the tenure of its members.
The second motion was for the dissolution and reconstitution of the former convention committee. The party claimed that the former committee was a product of the defunct NWC and since its tenure had ended, there was the need to reconstitute a new one.
But a member of the ANPP faction, Vitalis Ajumbe, told newsmen that the decisions taken at Thursday's meeting were illegal, since his group had sacked Ume-Ezeoke's executive.