KOLADE TASKS NIGERIAN YOUTHS ON VALUES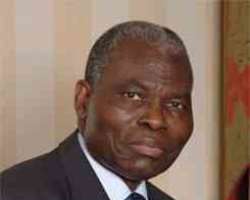 former Nigeria High Commissioner to the United Kingdom, Dr. Christopher Kolade
Nigeria's former envoy to the United Kingdom, Dr. Christopher Kolade, on Wednesday called on the nation's youths to imbibe values that will distinguish them among peers and assist in the actualisation of their dreams.
Kolade spoke in Lagos at the 17th anniversary of the African Refugees Foundation and public presentation of the biography of the foundation's founder, Chief Segun Olusola.
He said that 17 years of AREF had been that of positive contributions to the lives of many people who had given up hopes on the future.
'I want to tell some of you that are young in this gathering to emulate values like that of Olusola that will help you to achieve your dreams. It is good to look back at your life and be glad for what you have done. Sometimes in the past, you are not honoured for the kind of car you drive, the clothes you wear but what you are able to do for humanity. That is what I see in Segun who though aging graciously, has been providing platform for humanity. The best a man can ever live for is to leave the world better than he met it,' he said.
Earlier, the book's presenter, Otunba Yinka Lawal-Solarin, described Olusola as 'a man with lot of confidence and swagger '' who continually give his best to the society.
Also, the author of the book, Olusola: An icon of man's humanity to man, O' Femi Kolawole, said that the peace advocate is truly one of Nigeria's most recognised elder statesmen.
Comments :