2011: ZONING CAN'T STOP ME FROM CONTESTING – KADUNA GOV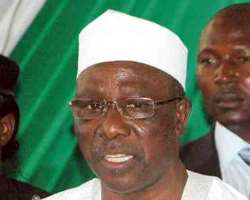 Kaduna State Governor, Yakowa
Kaduna State Governor Patrick Yakowa on Wednesday declared that he would contest the 2011 governorship election in the state.
Yakowa stated that regardless of the existing zoning formula in the state, concerning the sharing of political offices, he had the constitutional right to return to the Sir Kashim Ibrahim Government House next year.
He stated this during an interactive session with members of the Correspondent Chapel of the Nigeria Union of Journalists, Kaduna Council, as part of the activities to mark his first 100 days in office.
The issue of zoning has been generating some heat in the state. While the Northern zone is insisting that Sambo's eight-year tenure which should have lapsed in 2015 must be completed, Yakowa's Southern Kaduna kinsmen have set machinery in motion for his return to office in 2011.
But Yakowa argued that the recent decision of the Peoples Democratic Party giving President Goodluck Jonathan the green light to contest the nation's number one seat in spite of the zoning arrangement in the party should also be applicable to him.
'The debate on the issue of zoning is very well known. Every day, you pick a paper or listen to the electronic media; it is the issue that you hear.
'It came to us here in the 19 Northern Governors Forum meeting and it went to the National Executive Committee meeting of the PDP and I am sure that you are conversant with the positions that were taken.
'We sat down at the NGF and deliberated on it extensively on this issue and at the end; we came to recognize the fact that zoning is enshrined in the PDP constitution.
'At the same time, we recognise that something very fundamental happened to us in this country and that was the demise of the late President, Umaru Yar'Adua; then the elevation of the erstwhile vice-president to the position of president of the Federal Republic of Nigeria; the consequent elevation of our erstwhile governor to the position of vice-president; my own divine elevation to the position of governor; and also the deputy governor.