OBASANJO'S SOUTH WEST, 'OPERATION TOTALITY' AND THE 2011 ELECTIONS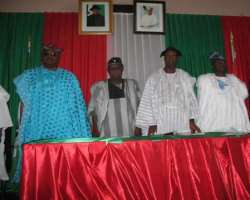 PHOTO: FORMER PRESIDENT OLUSEGUN OBASANJO (2ND LEFT) WITH PDP SOUTH-WEST PARTY LEADERS DURING ITS SATURDAY MEETING IN IBADAN, OYO STATE.
Somehow, President Olusegun Obasanjo won't stay away to enjoy his retirement in peace. As Chairman of the PDP Board of Trustees, he keeps meddling in the country's political affairs and hence, he compels us to take an interest in his affairs and politics. The newspapers reported early this week that in the comfort of his home in Abeokuta, while playing host to Theodore Orji, the Governor of Abia state, General Obasanjo declared that the 2011 general elections will be an "Operation Totality." Well, this is not original. He said precisely the same thing in February 2007, two months to the 2007 elections. In addition, at the time, he had also used the phrase "do or die" politics. He insisted that the elections would be "a matter of life and death." The implication was that the 2007 general elections ended up being an imposition of Obasanjo's will on the Nigerian people. The elections were a do or die matter as the PDP using the police and other security agencies rigged the elections across the country in order to sustain its majority status.
Even before the PDP Presidential primaries, Obasanjo, then a sitting President, prejudged the outcome of the process by publicly anointing Umar Yar'dua as Nigeria's next President. Other candidates who thought that there should be a free playing field were elbowed, blackmailed and pummeled into submission and threatened to make a choice between life or death. Instructively, the outcome was practically karmic. The eventual winner of the primaries and the Presidential election in accordance with Obasanjo's will, ran a Presidency of which the only thing Nigerians remember is that it was "a matter of life and death." Yar'Adua went in and out of hospital at home and abroad, mostly abroad, raising questions all the way about his life and likely death. In the end, he died. The Presidency as Obasanjo predicted was thus a "do or die affair." It should be noted that the same man soon abandoned the Presidency of his own creation claiming that "he didn't know" Yar'Adua was so fatally ill.
This time around, Obasanjo has been careful enough not to use phrases that may acquire karmic implications. He has not said 2011 will be a "do or die affair." Or that it will be a "matter of life and death". But he says it will be "Operation totality." In February 2007, he had tried to attach a moral high ground to this statement when he said he would ensure that a corrupt man will not succeed him. But he is no longer talking about integrity; he has simply dropped another verbal bomb about "Operation totality." What he means by this has now probably been clarified at a meeting yesterday in Ibadan, Oyo state where at his prompting and under his watch, PDP Governors of the South West states (Oyo's Alao-Akala, Osun's Oyinlola, Ogun's Gbenga Daniel and Ekiti's Segun Oni), in the presence of a collection of political jobbers, and so-called Yoruba leaders purportedly endorsed Dr Goodluck Jonathan for the 2011 Presidency.
When Obasanjo made the statement about "Operation Totality" last weekend, some commentators including PDP members had said he should be ignored and that "there is nothing to fear." My fear is that Obasanjo cannot be taken for granted. With his current politics, he looks like he is working hard to step into the shoes of the late Lamidi Adedibu in the South West. He probably fancies himself the new leader of the Yoruba but that will be a difficult thing to aspire to given the controversial nature of his politics. But Adedibu's shoes? Oh, yes. I don't have to tell you who Adedibu was: he was the man who helped the PDP between 2003 and 2007 to get the votes by hook or crook in Yorubaland; he was the master of "Operation totality," also later named the "garrison commander of Oyo state." His main tools were thugs and "amala politics." Now that Obasanjo has taken on the toga of the new henchman of "Operation Totality," his tools may be different. I don't see Obasanjo giving anybody "amala" and he may be too proud to use thugs directly. But he is invariably telling us that whether we like it or not in the South West, it is Jonathan that will be the president in 2011. Nowhere in the Ibadan declaration was there any special or humble reference to the electorate, and all the people who gathered at the event cannot under serious circumstances declare that they have spoken on behalf of the Yoruba people.
The declaration in Ibadan is obviously a calculated response to the National Executive Council of the PDP which at its last meeting in Abuja placed incumbent President Jonathan in difficult circumstances by refusing to adopt him as an automatic candidate for the 2011 elections. It is also a strongly worded message to the Northern gladiators who have been insisting on an existing zoning principle within the PDP. IBB, Buhari, Atiku and other Northern aspirants are being told: forget it, the South West is going with Jonathan. But are the South West Governors being sincere with Obasanjo? Did they play along just to lead him on? By the new Electoral Act, the State Governors are in a position to determine the fate of a PDP Presidential aspirant. Will all the South West Governors obey Obasanjo's command?
This looks like a case of what the local Yoruba call: "a o merin joba ewe ku ewele." But what is certain is that Obasanjo, pretending to be in charge of the South West will provoke an aggressive response from the North in the next few days if he has not done so already. A North-South West battle line has been drawn in the political sand. The only mediating factor is that Obasanjo and his co-conspirators do not speak for the South West even if they pretend to be doing so. They don't even speak for the South West PDP. And Obasanjo must be told that he cannot impose an "Operation Totality" on the people of the South West. Who does Obasanjo speak for? For his client who wants to be president? May be. But why is anyone endorsing a man who has not even publicly declared that he is interested in the 2011 Presidency? Obas (another Obasanjo acronym) is perfectly suited for the Adedibu role clearly because of his third term antecedents. But in all of this, it is the people's interests that should be paramount.
"Operation Totality" must not be about the imposition on Nigerians of a reluctant President who is forced to take on the office because some Godfathers want him there by hook or crook in order to sort out their own power psychosis. Operation Totality must be about the total elimination of rigging, unpatriotic Godfathers, corrupt electoral officials, useless security agents, reluctant candidates and all their agents. The kind of Operation Totality that Nigerians want is such that will bring to office, men and women who are God-fearing and patriotic and who are willing to ensure that Nigeria is no longer a country of kidnappers, con artists, dilapidated school structures, pot-hole ridden roads, corrupt civil servants, and thieving public officials. Nigerians want Operation Totality, but not Obasanjo's kind of totality. Obasanjo wants the kind of totality that will promote the PDP in power, a kind of totality that will serve only his interest and that of his political clients and associates, and a totality that will bring the PDP to power by all means possible. The people want their votes to count in a total sense. They want to exercise the power to get rid of corrupt politicians and encourage persons who want to make a difference and are committed to doing so. Obasanjo and all the other politicians at the Ibadan event are too obsessed with their own importance. They do not represent us.
They thrive because of the failure of institutions in the country. Where else in the world do politicians gather to announce the imposition of their will on a free people? As a statesman, President Obasanjo should know better. He should not, even under the guise of being a loyal party member, be party to events that are designed to compromise the people's sovereignty. America has a list of former Presidents. Those former Presidents do not interfere in the political process the way Obasanjo does. It is the same in Britain. When last did anyone see Britain's former Prime Ministers trying to intervene so actively in the political process, so determined to influence future outcomes, as Obasanjo and his club mates do?
President Goodluck Jonathan, while still delaying his declaration of interest in the 2011 Presidential election, has a responsibility to keep his campaigners and clients on the leash, lest they heat up the polity. They are probably not as well-meaning as they make out. It is amusing however to see that the Adedibu legacy is being resurrected in the South West. It should be deplored. Obasanjo's group may have endorsed Jonathan and that is all there is to it.
Disclaimer:

"The views/contents expressed in this article are the sole responsibility of the author(s) and do not necessarily reflect those of The Nigerian Voice. The Nigerian Voice will not be responsible or liable for any inaccurate or incorrect statements contained in this article."
Articles by thewillnigeria.com