IBB's Minna Parley: How Punch's Editorial Board Chairman Was Fired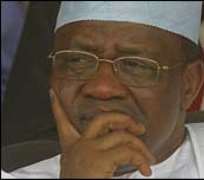 Ibrahim Babangida
Fresh facts emerged on Wednesday as to how the former Editorial board Chairman of the Punch Newspapers, Adebolu Arowolo, was fired by his employers over that infamous ' 'Minna Media Parley', hosted by the evil genius, Gen. Ibrahim Babangida.
He was the first victim of the trip to Minna where Babangida who wants to be President, tried to compromise the media. The Punch which has showed zero tolerance for such behavior had few months ago showed former Managing Editor, Azu Ishiekwene, the gate for alleged corrupt practices. The whole saga also consumed Ex Editor, Steve Ayorinde. Arowolo, just like Ishiekwene, wrote consistently on the corrupt system, including legislators pay, and the alleged $5 Billion LNG remittances to NNPC...
Pointblanknews.com learnt that shortly after Arowolo returned from Minna with a bagful of cash, he went straight home since it was a weekend. He also did not disclose to anyone his invitation to Babangida's house, nor his nocturnal trip.
According to our source, few days later, an online publication blew open the meeting where over 20 editors, and 20 line editors attended, and how they shared a paltry N10 million. Pointblanknews.com later learnt that they got N200, 000 each, and an extra N50,000 for flight expenses.
At that meeting were editors from the Guardian, The Sun, Thisday, The Nation, Daily Independent, Sunday Independent, Punch, Tribune, Vanguard, Leadership, the electronic media etc. The parley and propaganda stunt lasted between 11pm and 1am. They were 'compelled' to sign a birthday card for IBB, and pose for a photo shoot.
Pointblanknews.com learnt that few days after the publication by the online media and mentions on face book, the Managing Director, Demola Osinubi, called Arowolo into his office and repeatedly asked him if he was at the IBB media parley. He consistently denied he was there, claiming he was home.
Our source said Osinubi believed him because, Arowolo was like a laid back guy, with the mien of one of the few good ones, who hardly leaves Lagos. "He believed him because he didn't appear to be such a person. He was well paid, he gets a little over N400, 000 per month. "
So, Osinubi said if he (Arowolo), was sure he did not attend, he should put together a rejoinder disclaiming the story. According to our source, " The MD repeatedly asked him, if he attended , he said no, so he said since we can't sue them because they are not in Nigeria, let's put together a rejoinder because, the story really embarrassed the Punch."
Pointblanknews.com further learnt that, few days after the encounter with Arowolo, The Chairman of the Board, Ajibola Ogunshola was at a meeting of the Nigeria Newspaper Proprietors Association (NPAN), with other publishers, when the issue came up. Our source also said, in attendance was the Publisher of Vanguard Newspapers, Amuka Pemu, believed to be a member of IBB fan club.
Said the source "at that NPAN meeting the chairman, (Ogunshola), and others talked about the issue. Amuka Pemu told him, it was well attended and that the Punch was there. Ogunshola said there was no way the Punch would have been there. It was at that point that Gbenga Adefaye (President, Nigeria Guild Of Editors), leaned towards him (Ogunshola), and whispered into his ear that Arowolo was there. He was shocked, but not convinced"
Pointblanknews.com gathered further that the moment Ogunshola left the meeting he called the MD, Osinubi to ask about Punch presence at the IBB parley.
"The MD called him into his office and confronted him with the latest revelation. He (Arowolo) just burst into tears and fell on the floor, begging and asking for forgiveness. But the Boss told him, it was late because the Chairman is already aware. So he was asked to resign or be fired." The worse part of it all was that he embarrassed the Punch, lost his job for a paltry N200, 000," said a source.