POLICE NOT INTIMIDATING ONITSHA BIZMAN, CLO TELLS JONATHAN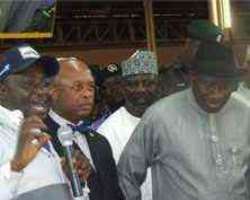 Civil Liberties Organization (CLO) Anambra State chapter has urged President Goodluck Jonathan to ignore the petition of an Onitsha businessman and suspect in a criminal case in the High Court, Onitsha to free him from alleged intimidation of police. The businessman, Chief Sebastine Okafor-Muo had through his lawyer; one C.O Chigbuo petitioned the Presidency alleging police intimidation and unjust slamming of an attempted murder case against him in court. He urged the president to intervene to save him.
He also in the petition which was published in the national dailies accused the police of harassment and detaining him against a court order.
But CLO in the petition signed by the state chairman and the Secretary, Comrades Aloysius Attah and Justus Ijeoma respectively had said its petition was occasioned by the falsehood allegedly put out by Okafor-Muo to the presidency.
The CLO petition reads in part: 'Ordinarily, sir, we would have treated such falsehood with ignominy as we know that it will surely collapse like an empty sack, when brought under the test of time and scrutiny of justice, but to put the records straight and avert the deception which they are peddling around in order to garner public sympathy.'
'Okafor-Muo and his lawyers were quite aware that the matter is pending in Court in Onitsha, Anambra State and so, their purported letter to President Jonathan was to distort the case.
'As at now, Chief Okafor-Muo goes around with about four Policemen as his orderlies. So when and where did the police intimidation and harassment come in.'
The organization further said that, 'Contrary to Okafor-Muo's lawyer's claim that his client was innocent, investigation clearly showed that he had a land dispute with the family of Chukwunenta Nwakozor who he had framed as an armed robber and was detained at Onitsha prison before a jail break in 2006 in which he was freed alongside other inmates.
'In spite of attempt for amicable settlement of the problem by the families as they both hail from Adazi- Nukwu Community in Anaocha Local Government Area of Anambra State, Okafor-Muo went and procured a vigilance group, who arrested Nwakozor at the venue of his marriage ceremony to eliminate him'.
'Since Okafor Muo was granted bail in May 2010, he has refused to come to Court to state his innocence, claiming that he is sick and so the matter has suffered two unnecessary adjournments. And now that he has realized that he cannot claim sickness forever he has started raising false alarm to the Presidency as his last ploy to evade the course of justice.
CLO therefore appealed that, 'Now the South-East zone is bedeviled with violent crimes, all stakeholders must show sincere commitment towards ameliorating the situation by not allowing any undue interference on the process of criminal justice.
'The perpetrators of crimes and injustice must be told that time has changed and there is no hiding place for criminals and criminality. If Okafor-Muo is sincere let him come to court to clear his name, instead of calling on the President to intervene on his behalf.'