FIRE: JONATHAN AT PDP HQTRS, COMMENDS QUICK RESPONSE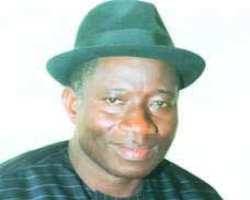 President Goodluck Jonathan yesterday visited the national headquarters of the Peoples Democratic Party (PDP) in Abuja, to see first hand the extent of damage of the fire incident which happened last Saturday morning.
Jonathan who arrived the PDP secretariat at 2.15p.m. in company with the Minister of Niger Delta, Godswill Orubebe, Minister of State for Information, Labaran Maku, Minister of Federal Capital Territory, Bala Mohammed and his senior aides, was shown round the facility by the National Chairman of the party, Chief Okwesilieze Nwodo.
During a short interaction with newsmen after inspecting the damage Jonathan said he expected action to be taken to identify and rectify the fault to forestall a repeat. President Jonathan also praised the Nigerian Police and the National Civil Defence and Security Corps for their supportive role in ensuring that the fire was quickly brought under control with no loss of life and minimal damage to the building.
The president who was told by Chief Nwodo that the fire was caused by a fault in the electrical wiring of the building, said action would be taken to identify and rectify the fault to prevent a recurrence. 'I commend the efforts of the fire service, assisted by the Police and Civil Defence, for their quick response because I was told that when they were called, under five minutes they got to this place and they were able to prevent the damage; the fire was well contained.
'What we have to do as a party, just like any other person who owns a property and has this kind of experience where fire was suspected to have emanated from electrical appliance, in this case the air conditioner, is that the electrician will have to be invited to check the electrical system and fix it,' he said. Also speaking to newsmen, Nwodo praised Jonathan for taking time off his very busy schedule to visit the party headquarters in the immediate aftermath of the fire outbreak.
He said that the visit showed that the president was a 'caring leader' who is truly committed to the well-being and progress of his party. Affirming that the fire was caused by an electrical fault in the building, he dismissed the notion that sabotage could have been involved.